Maryam Rajavi: Necessity of trial, punishment and expulsion of the clerical regime Intelligence mercenaries and Revolutionary Guards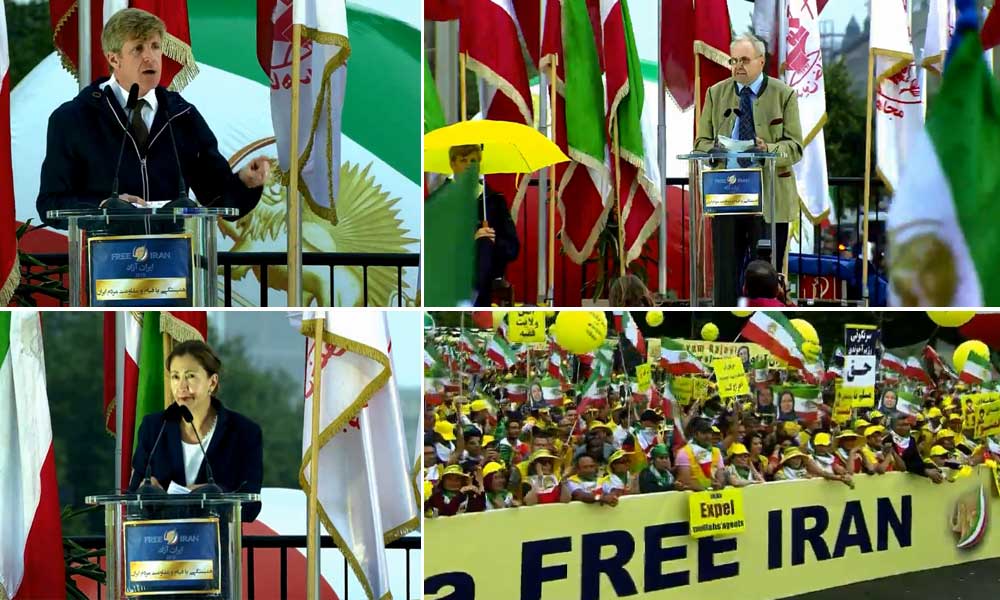 On Saturday, July 6, 2019, more than 15000 thousands of Iranians held a massive and impressive demonstration in Berlin.
Iranians supported the uprising of the Iranian people and the struggle of resistance units to overthrow the clerical religious dictatorship and the establishment of democracy and people's sovereignty, and expressed their support for the PMOI/MEK, the National Council of Resistance of Iran (NCRI) and its President-elect, Mrs. Maryam Rajavi, and her 10 point plan for future Iran.
In a message addressed to protesters in Berlin, Rajavi said: "Today, the mullahs have fallen into the trap and impasse of overthrow, and you, facing your homeland, are telling the uprising people, the workers, the teachers and other frustrated people to keep up, to dash. The message of you and the Iranian people to the international community, and specifically to Europe, is: The policy of giving concessions to the religious oppression and protecting the mullahs from being overthrown must be stopped."
Maryam Rajavi added that a year ago, Germany arrested a so-called diplomat of the mullah's regime who personally provided explosives to two terrorists to use against the Iranian resistance gathering in Paris. Before and after that, during past three years, the German police have also arrested a dozen mercenaries and terrorists from the Qods Force and the Ministry of Intelligence (MOIS). A number of them were tried and imprisoned by German judiciary. She stressed that the MOIS and IRGC mercenaries must be tried, punished and expelled. This is a necessary element in the fight against terrorism and in providing the security for Iranian refugees in Europe.
Rajavi emphasized to the demonstrators: "The religious fascism is truly the greatest threat to peace in the world today. From Uranium enrichment, meaning preparation for a nuclear bomb, to the development of ballistic missile program, in violation of Security Council Resolution 2231, to the deployment of forces in Syria, in violation of Resolution 2254, and the intensification of its criminal war in that country. Indeed, if the mullahs were not given relief from Europe, how could they be so rude?"
Any concession to this regime, with any justification, has only one consequence: increasing the prospect of a catastrophic war by the clerics. Each trade euro with the clerics is a euro for fueling the Khamenei repression and war machine.
On human rights, Maryam Rajavi asked Mrs. Merkel to lead a special initiative against the mullah's regime for human rights violations at the European level, including stopping persecution, execution and killing prisoners under torture and setting up an international delegation to visit Iranian prisons and political prisoners.
Prominent politicians such as Patrick Kennedy, Ingrid Betancourt, former Colombian presidential candidate, Thomas Nord, German Member of Parliament, Eduard Lintner, former German deputy Interior Minister, Leo Dassenberg, chairman of the Free Iran's Committee in Germany and a former member of the federal parliament, Christian Zimmermann Director of the Human Rights Office in Berlin, Senator Jerry Horgan of Ireland and Michał Kamiński Polish Member of Parliament spoke at the rally.
Secretariat of the National Council of Resistance of Iran