Maryam Rajavi: The only solution for the acute crises in Khuzistan is to escalate popular protests and rise up to drive back the clerical regime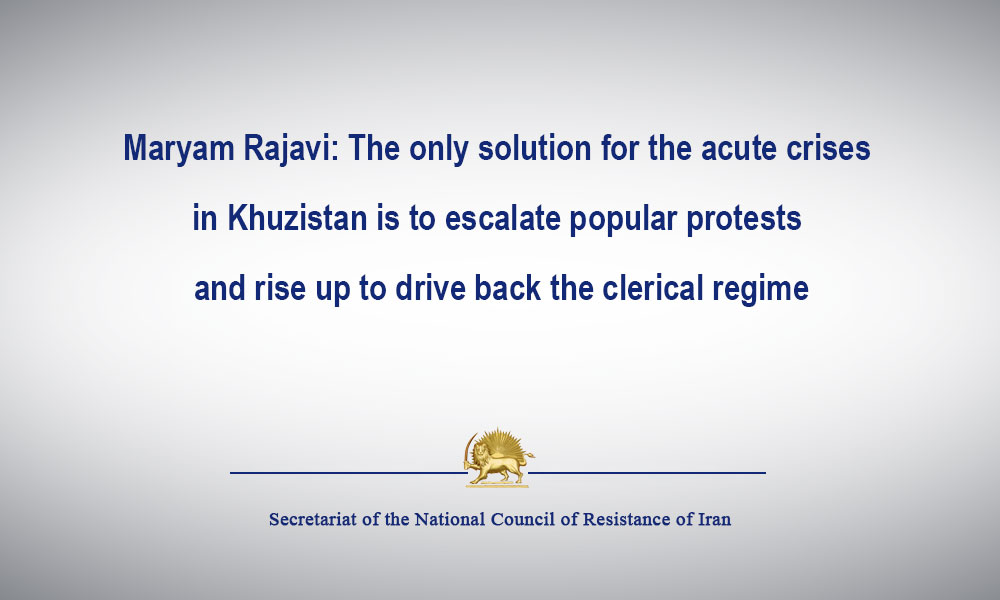 The people of Ahwaz have taken to the streets today for the third consecutive day to protest the disastrous air pollution and frequent water and power cut-offs in the capital of Khuzistan Province.
The clerical regime has intervened by suppressive forces and machine-gun-mounted vehicles over the past days and blocked the streets leading to the Governor's Building, the suspended bridge and the Firefighting Sq. to curb the spread of protests.
The protesters chant, "Death to tyranny", "death to repression", "we, the people of Ahwaz, won't accept oppression", "incompetent officials must be expelled", "impostor (Massoumeh) Ebtekar, resign, resign", "clean air is our right, Ahwaz is our city", "Shame on the State Security Force", and "unite, unite!"
They also shouted slogans against the Governor of Khuzistan.
The Iranian regime has carried out an array of treacherous plans in Khuzistan Province which have led to a disastrous environmental condition in the area and jeopardized people's health and living. The plans including the diversion of Karoun and Karkheh rivers' water, excessive building of dams, and the Oil Ministry's use of quick and cheap methods of oil extraction, have dried up the ponds and lakes in the area including the famous Hoor al-Azim wetland and Shadegan lagoon.
Underlining the environmental crisis and the increasing problems of the people of Ahwaz and Khuzistan, the Iranian Resistance's President-elect Maryam Rajavi called on the nation to help decrease the pressure on the deprived people of this area, especially the sick and vulnerable.
The Iranian mullahs' regime is the source of all the acute problems that have caused frequent water and power cut-offs and led to unemployment and various diseases, Maryam Rajavi said.
She pointed out: One cannot expect the mullahs and the regime's leaders and officials provide any solutions. The solution lies in the people's escalation of protests and uprising to drive back the regime and its officials who have created so many problems in their daily life.
The Iranian Resistance's President-elect hailed the people of Ahwaz and Khuzistan, particularly the women and youths, and urged them to unite their ranks to continue their protests and demonstrations in solidarity.
The secretariat of the National Council of Resistance of Iran
February 15, 2017