In Memory of the Late Dr. Manouchehr Hezarkhani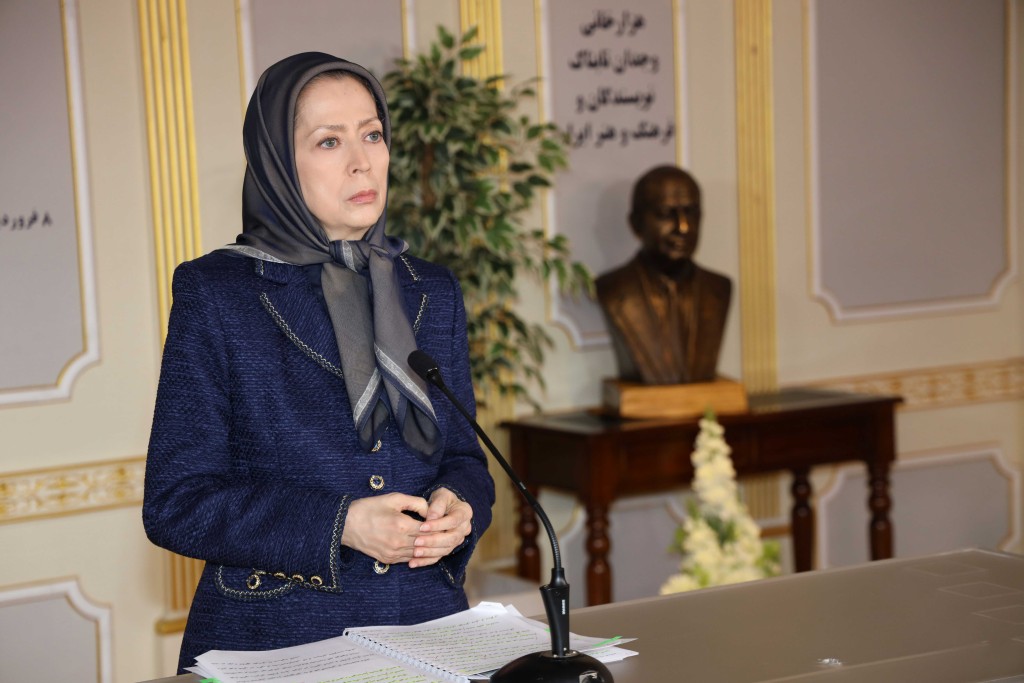 Maryam Rajavi: Hezarkhani Proudly Conquered New Heights and Became a Role Model for Iran's Intellectuals, Writers, Cultural Activists and Artists
Dear friends, honorable members of the National Council of Resistance of Iran (NCRI), sisters and brothers!
I thank you all for attending this memorial service in honor of Dr. Hezarkhani. I extend my gratitude to you and all our friends who have sent me messages of condolences over the past few days. You are visiting his grave on our behalf.
Over the past several days, we have witnessed a torrent of love and admiration by our compatriots inside and outside the country, including supporters of Ashrafis and the Iranian Resistance, for Dr. Hezarkhani's status and contributions.
Dr. Hezarkhani was someone whose life and death both left lasting legacies and fueled the motivation for the resistance and struggle against the Iranian people's enemy.
Over the past four decades, he focused resolutely on trying to overthrow the clerical regime. He used his sharp and commanding pen to target the regime's attempts to save itself as well as all its ideological servants. Consider his writings, books, and interviews over the past four decades. He persistently criticized Khomeini's and Ali Khamenei's policies, cultural seizure, laws and method of governance. He mocked them with his unique and thoughtful sense of humor. He humiliated the religious tyranny's reactionary ideology, obscenity, and deceit. He disgraced so-called "reformers" and their ringleader Ali Akbar Hashemi Rafsanjani. He called mullah Mohammad Khatami a "petty official" who is "releasing one-time hits like 'civil society,' 'dialogue among civilizations,' and 'political development' in order to attract more customers." And, he used to shout: "All of the 2-Khordad circus performers (Khatami supporters) from top to bottom are a disgrace." He chastised opportunists who condemn sanctions against the regime by expressing "deceitful affection for innocent people," as he described it.
Voicing support for the Iranian Resistance's revelations against the regime's nuclear weapons program, he wrote: "The Iranian people's national interests require that not only this regime be prevented from acquiring nuclear weapons, but that it be overthrown, sooner than later."
Dr. Hezarkhani unleashed a flurry of sharp and revealing remarks against the regime's allies and companions; from pseudo-leftists he described as "Followers of the Line of Imam" to "remnants of the Ministry of Intelligence" and "the dried up branches of the previous regime living abroad."
He wrote: "It is absolutely not a foregone conclusion for the future of our society to be held hostage to the outcome of a ping pong match between the previous regime and the clerical regime. The Resistance movement will topple this entire enterprise and it will establish a new and democratic government that is devoid of both monarchical privileges as well as religious ones."
A Critic, Seeker of Truth, and Admirer of Rebellion
Since the beginning of his literary and political career during the dictatorship of the Shah, Dr. Hezarkhani became known for his critical thinking and his intellectual and analytical mind. Through his precious writings and translations, he rejected pacifists and posers and encouraged the younger generations to join the revolutionary struggle. This was the attitude he continued to harbor until the last day of his life, but at a much higher and deeper level. During the Shah's time, he was in awe of the rebellion waged by the "Little Black Fish" and defended the Fedayeen Guerillas and the Mujahedin-e Khalq (MEK). During the Sheikh's era, he became infatuated with an organized resistance movement that has been drenched in blood. Dr. Hezarkhani described the National Liberation Army as the courageous element that "uprooted the dominant logic and philosophy," and he wrote: "If resistance has survived as a cherished notion, and if we are proud of it today, it is primarily because of the existence of the National Liberation Army."
The same force that Dr. Hezarkhani described during the Shah's time as the "creators of the flames of anger and rebellion" turned, in his mind, into today's Resistance Units. As many friends have testified during these years, what made Dr. Hezarkhani more excited than anything else was hearing about the activities of Resistance Units inside Iran. During the meetings and interactions he had with me personally, he consistently used numerous examples and strong reasoning to talk about the significance and influence of Resistance Units inside society and in the context of the struggle.
Massoud Rajavi was right in his recent message when he said: "Hezarkhani was gripped by the fighting force, spirit of resistance, Resistance Units, and the spirit of rebellion; from the Fedayeen Guerillas to the MEK, and from Chile to Africa, Palestine, and Latin America." This is a real and precise portrayal. During the celebration of his 82nd birthday at the NCRI's headquarters, Dr. Hezarkhani pointed to this description about himself and told MEK members: "The spirit of rebellion lives in all of you and in every one of you. Perhaps the strongest bond between the MEK and myself is spelled out exactly in this spirit of rebellion. This spirit of rebellion usually refuses to surrender to anything. And that is why it generates a dynamic energy."
Against this backdrop, Dr. Hezarkhani paid enormous attention to the MEK's organizational structure and internal dynamics. During his meetings with the MEK, he engaged members, asked them questions, and encouraged them.
Whenever he visited MEK members at Ashraf 1, Ashraf 3 or other bases, he would sit down and talk to every one of our sisters and brothers. He particularly wanted to talk to our sisters who are responsible for running various sections of the organization. He particularly emphasized the role played by MEK women in the movement, and considered it a significant moment of progress for Iranian society overall.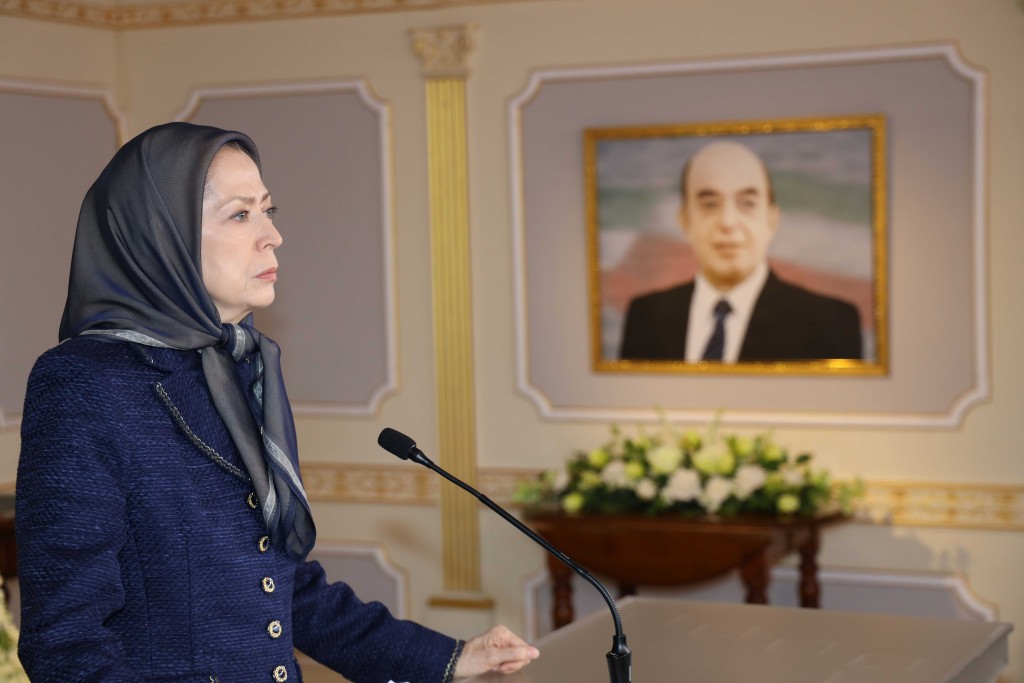 Bonding with the NCRI and the MEK
Why did Hezarkhani have an unbreakable bond of over 40 years with the MEK in the context of the NCRI, despite the fact that the regime and its known or secret agents did everything in their power to break these ties?
For two reasons: First, because he pursued the regime's overthrow genuinely and with all his being. And, second, he found an example of democracy and broad horizons of thought in the MEK, which he described as unparalleled in Iran's political landscape.
Prior to June 20, 1981, when the Mojahed weekly printed pages regarding the NCRI, in which pundits subscribing to various views promoted their ideas, Mr. Hezarkhani said in an interview that in contrast to the history of tyranny permeating thought and culture in Iran, "the fact that an organization [MEK], which has earned the status of the largest political organization in the country, considers it its duty to sacrifice its own group interests for the sake of encouraging cooperation among other groups and individuals … this kind of thinking is heresy in the eyes of the culture of tyranny. (However,) I consider it a revolution. In this seemingly trivial act, I see the emergence of democracy. I see the incarnation of freedom and independence."
With respect to the Chairman of the NCRI, Massoud Rajavi, and his admiration for him, I can share excerpts of Dr. Hezarkhani's interview for the awareness of the younger generations inside the country and the youth in the MEK's ranks. The entire interview is also available.
In an interview aired on the satellite TV channel Simay-e Azadi, Dr. Hezarkhani said the following about his love for Massoud: "Whatever the characteristics of our friendship, in my view, there are dimensions of Massoud's personality that are germane for everyone. It is possible that not everyone knows what these are. Everybody knows that Massoud is the leader of a revolutionary movement, and everyone emphasizes this point. … (And also) he is an uncompromising revolutionary leader. … (And) he has not abandoned the struggle against the main enemy, Khomeini, for a second, and he has refused to hold back under any circumstances. … But inside the NCRI, we also see Massoud in a different light. He is a manager in the true sense of the word. I do not want to use extraordinary language that may be deemed as exaggerations – although I would use such descriptors without feeling any guilt whatsoever – but I must say that he is at the very least one of the most outstanding political figures in our society today. …
"Inside the resistance and the serious movement against Khomeini, he is unmatched. … During the NCRI sessions, he considers no rights for his own organization above the others. More importantly, by virtue of his awareness of the fact that the MEK has a heavier political weight than other forces comprising the NCRI, whenever there is difference of opinion, he always makes a deliberate effort to speak out against the MEK.
"That is why during the NCRI meetings, he has been criticized by the MEK many times. Perhaps some people know this. Perhaps many don't. Outsiders certainly are not aware of this fact. The mere management of the NCRI, in its original form, could not be carried out by just anyone. We can attest to this now. Perhaps it wasn't too clear at the time when were in the moment. But in hindsight, we can remember how he brought together a collective whose adherents harbored a variety of tendencies at a time when passions were also running high.
"Motivating that collective to adopt a unified view, and managing such a collective, required supreme talent. And Massoud (Rajavi) was, and still is, completely and truly gifted with that skill set. His modus operandi in running the meetings – which he never talked about but his ongoing practices have made this clear now for everyone … was that whenever there was a divergence of views, Massoud never asked for a vote until those differences of opinion were settled, regardless of how long the meetings continued. …
"At the very beginning, when we wanted to convene the NCRI's sessions … Massoud Rajavi recommended that each member be given one vote, like the United Nations, regardless of their political weight. At its core, this act revealed Massoud's complete awareness about his responsibilities and the situation in which he found himself, the situation that existed then and will preoccupy him in the future.
He has an uncompromising spirit. He does not compromise about principles. In my opinion, this does not speak about him personally. He is carrying the weight of responsibilities for a movement. But, in other respects, he is the most supportive individual I have seen in the NCRI. He is compromising and cooperative to the point that you yourself will have to say it's enough.
He has never initiated departures, and in fact he is inherently unable to do so. What I want to say is that everyone has their personal biases and emotions. The abilities and tolerance thresholds of human beings do not transcend human limits and are not super-human. There is a threshold for tolerance, particularly if someone is in Massoud's shoes. But it appears that his abilities and tolerance exceed those of others by an enormous margin, at least within our collective. And I think this does not result from anything else other than his great awareness about his own position and situation, about the weight that the movement carries, about the significance and seriousness of this movement, the people's demands from this movement, and the people's expectations of this movement.
It is true that Massoud Rajavi is the political and military commander of the MEK. … But I want to say that his non-military personality is much more magnificent. It would be good for the Iranian people to recognize this."
Dr. Hezarkhani's characteristic feature can be summed up in waging the struggle that he had chosen with all his might. We would do well to consider the profound views that shored up this perseverance. He expressed it everywhere, using numerous examples. It is interesting that in the interview he conducted two weeks prior to his passing away, Dr. Hezarkhani provided an excerpt of his final work, the translation of The Power of The Alternative, which expresses this meaning. He said: "The alternative is a power that emerges out of nothing and organizes everything. It is the foundation and building block of a new system. … It sweeps away the system remaining from the past and establishes a new system in its place."
This was an excerpt from his last translated book. It is also a reflection of his own thinking, as well as an expression of the raison d'être of the NCRI, which Hezarkhani joined since day one.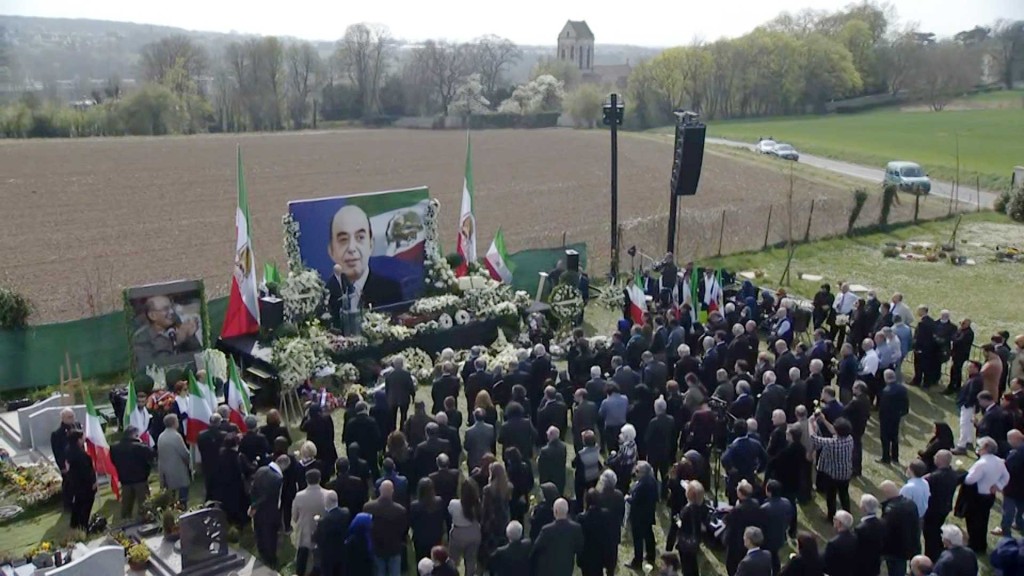 Perseverance and Pride in the Struggle for Freedom
Therefore, those who in recent days have shamelessly insulted Hezarkhani and his inspirational perseverance are showing that the source of their true animosity is his political actions, which embodied resistance and perseverance against the religious tyranny. They do not want the regime to be overthrown in practice. They are either directly hired by the regime or sent in by the Ministry of Intelligence and Security (MOIS), or are in contact with the MOIS. Or, they prefer the status quo of the mullahs' rule.
In so far as it concerns his writings, creativity, dexterity and methods as an author, he was a teacher that loved the grammar and lexicon of the Farsi language. He established and strengthened a simple, forceful, and easy-to-learn prose. He also translated the works of a number of progressive intellectuals, cultivating the ideas and motivation for struggle and revolution in the hearts and minds of generations of young Iranians.
Hezarkhani stands truly proud and has reached new heights. He conquered those summits thanks to his own choices. He has become a role model for all intellectuals, authors, cultural activists, and artists of Iran, showing that one should dedicate all their abilities, talents, ingenuity and cultural and artistic creations to the progressive and freedom-seeking movement of Iran.
Hezarkhani forged this status by virtue of his own decisions and choices. He paid the price for it by tolerating all sorts of risks, pressures, insults and slurs. Yet, throughout this long journey, he strengthened his determination and remained loyal to his people's resistance movement. Those who are in the camps of the Shah and the Sheikh stood against him. They dedicated their poetry, novels, or intellectual aptitude to the service of Reza Khan, his son, or the mullahs' monstrous regime. They became direct or indirect instruments in the hands of dictators and worked to spread despair among the people.
Hezarkhani's life, struggle and perseverance in the intellectual, cultural and political spheres reveal the tendency and determination of the overwhelming majority of the Iranian population, particularly the rebellious and defiant youth, who are working hard to overthrow the clerical regime. Hezarkhani was the true ambassador for the thousands of broken pens, the thousands of massacred books, and the thousands of poems, musical pieces and songs that have been broken and imprisoned by the Velayat-e Faqih (absolute clerical rule) or those that have fallen victim to its censorship apparatus.
That is why his living legacy continues to impact Iran's society, culture, literature, and authors. There are many intellectuals, thinkers, writers, and subscribers to progressive, freedom-seeking and resolute ideas that have chosen to follow in his footsteps.
We strongly urge them to continue to do so and to replicate the movement of Hezarkhani's fiery pen in the struggle for overthrow and for achieving tomorrow's freedom.
We remember Hezarkhani, who sought to end the status quo and create new beginnings.