Iran:Saqqez residents' protest gathering at Mahsa Amini's funeral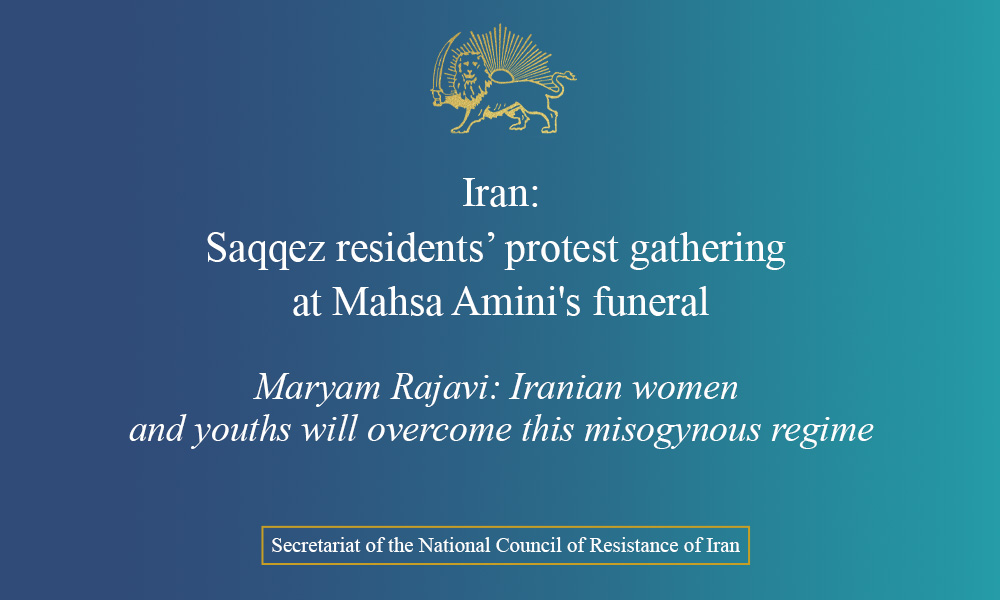 Maryam Rajavi: Iranian women and youths will overcome this misogynous regime
Following the tragic murder of Mahsa Amini by the repressive Ershad Patrol (Morality Police), and Tehran residents' protest against this crime, the repressive forces had planned to bury Mahsa in her hometown, Saqqez, at night in order to prevent large crowds from attending her funeral. However, her family resisted and forced them to postpone it to early this morning.
From the early hours of this morning, September 17, MOIS and SSP (State Security Force) agents blocked the entrances of Saqqez to prevent people from participating in the funeral ceremony. However, thousands of Saqqez residents gathered at the main cemetery and protested the murder of Mahsa Amini. They chanted, "Death to the dictator", "Shame on our Ali Khamenei", "Death to Khamenei", "Regime of execution! Stop your crimes."
After Mahsa 's burial, protesters held a rally outside the governor's office and confronted the SSF and riot police while chanting, "I will kill whoever killed my sister" and "Shameless!" The repressive forces fired tear gas and pellets at the protesters, wounding several people.
Mrs. Maryam Rajavi, the President-elect of the National Council of Resistance of Iran (NCRI), saluted the youth in Tehran who last night chanted, "Death to Khamenei", and "I will kill whoever killed my sister." She also hailed the brave people of Saqqez and Kurdistan province, who rose up today to protest Mahsa's murder and chanted "Death to the dictator" despite regime's suppressive measures and shootings. She reiterated that with their resistance, Iranian women and youths will overcome this misogynous regime. She called on the next UNGA session to take immediate action on the atrocities of the Iranian regime against women and said that the dossier of the regime's crimes should be referred to the Security Council and its leaders should be brought to justice.
Yesterday, Mrs. Rajavi offered her deepest sympathies with Mahsa Amini's family and called for public mourning over her tragic murder.
Secretariat of the National Council of Resistance of Iran (NCRI)
September 17, 2022