Rt Hon David Jones, meets with Maryam Rajavi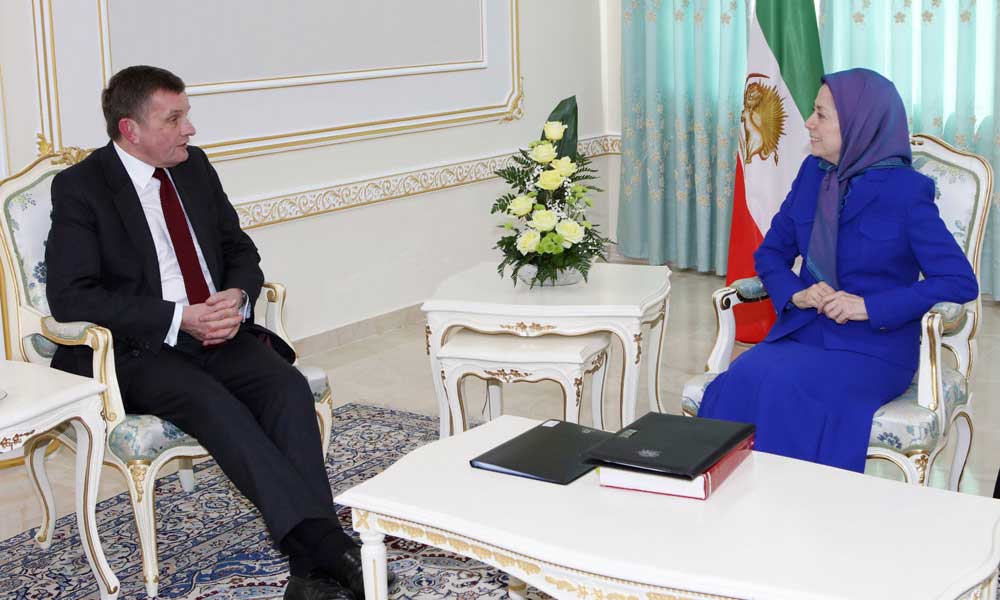 Mr. David Jones, a senior British parliamentarian, Welsh Secretary in David Cameron's government, and Minister of State for negotiations with the European Union in Theresa May's cabinet, met with Maryam Rajavi in the Iranian Resistance's settlement of Ashraf III on Saturday, 6 April at the end of his trip to Albania and his two day meetings with PMOI members.
Mr. David Jones expressed his heartfelt sympathies to Maryam Rajavi for the devastating floods in Iran on behalf of the British Parliamentary Committee for Iran Freedom, and requested that she convey his feelings to the Iranian people. He once again expressed support for the Iranian resistance movement to establish democracy and popular rule in Iran. He said, "It has been a great privilege to meet with you and the members of this resistance in Albania in a city that you have built here. I am impressed by the work and efforts of the member of the PMOI. They have dedicated all of their lives to the struggle for freedom." Mr. Jones stated the proscription of the Iranian Revolutionary Guards Corps (IRGC) as a terrorist entity is a prerequisite for peace and the struggle against terrorism. He said that the Iranian regime and the IRGC are not only a threat to the Middle East region but to the world at large.
Mr. Jones called on the British government to condemn the Iranian regime's inaction in bringing aid to the people of flood-stricken areas and its repressive measures against them. He called on the British government and the European Union not to remain silent, and to take effective measures against the regime's suppression of its own people and its export of terrorism to the region.
Mr Jones also pointed out that the Iranian regime faced with protests and popular uprisings at home, has resorted to terrorism against the PMOI simultaneous to directing demonization campaigns to discredit the Iranian Resistance.
Maryam Rajavi explained the latest developments of the devastating floods in large regions of Iran and said, "The Iranian regime has not taken any serious steps to aid the people faced with this national disaster and unprecedented tragedy, and has instead given priority to preventing justified protests in these areas."
She also reiterated the necessity of listing the IRGC as a terrorist organization. Maryam Rajavi recalled that the Iranian Resistance had declared many times before that the terrorist listing of the IRGC in its entirety is imperative for peace, stability, and security in the Middle East. The Guards Corps of the clerical regime (IRGC) is not only the main force for domestic suppression, but also the main tool for the export of terrorism and fundamentalism to abroad, and it should have been designated to the US State Department's FTO list long ago.