UN GENERAL ASSEMBLY ADOPTS 65TH RESOLUTION CENSURING RIGHTS ABUSES IN IRAN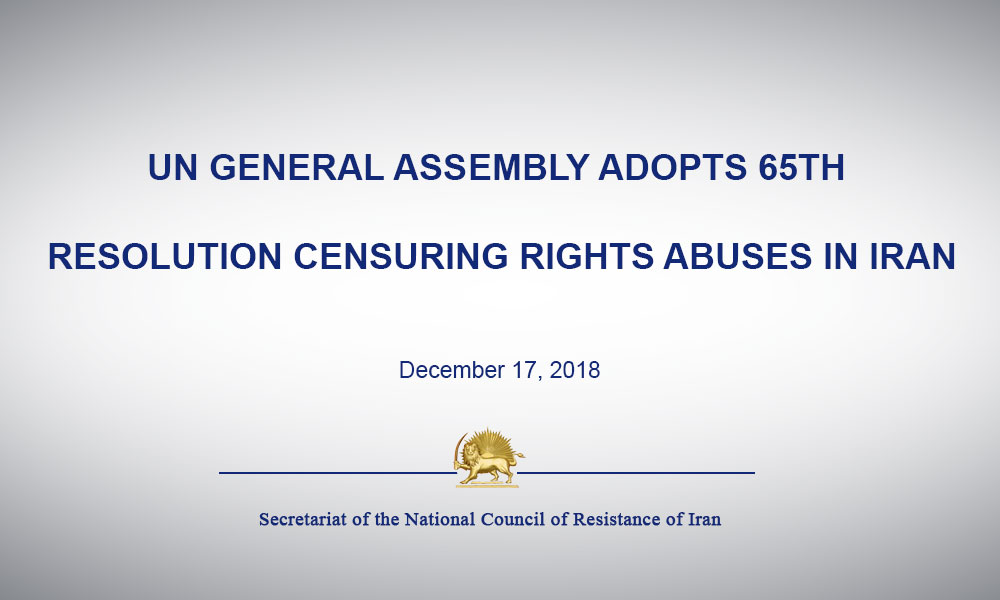 Maryam Rajavi, welcomed the adoption of the 65th UN resolution condemning the systematic and grave violations of human rights in Iran.
She said the adoption of this resolution "once again confirmed that the regime blatantly tramples upon the Iranian people's most fundamental rights in all political, social and economic spheres."
"The Iranian regime is in no way congruous with the 21st century and must be isolated by the world community," Mrs. Rajavi noted.
The UN resolution stresses the "alarmingly high frequency" of the use of the death penalty including against minors, "the widespread and systematic use of arbitrary detention," poor prison conditions, "deliberately denying prisoners access to adequate medical treatment," and "cases of suspicious deaths in custody."
Maryam Rajavi reiterated, "Although the resolution fails to address many aspects of the inhumane crimes committed by Iran's religious fascism, it leaves no doubt that this regime is the most brutal and aggressive violator of human rights in today's world. The inaction of the international community against the crimes of this regime has emboldened it to continue and spread these crimes, the latest example of which has been the barbaric raids on the residences of the Steel workers of Ahvaz and the arrest of dozens of those who demand their minimum rights."
She added, "The impunity of perpetrators of the massacre of political prisoners in 1988, one of the most obvious examples of crimes against humanity after the Second World War, played a major role in encouraging the regime to continue its crimes against humanity. In particular, the regime leaders are either directly involved in or continue to defend this horrible crime and prevent disclosure of details such as the names of the victims and their burial grounds."
"The immunity of the regime's leaders has not only led to more brutal violations of human rights, but has also assured them that their crimes in other parts of the world will also go unanswered. This has led to the expansion of the regime's belligerence, fundamentalism and terrorism in the region and the world," Mrs. Rajavi stressed.
Maryam Rajavi concluded, "Therefore, the international community should investigate the crimes of this regime, especially the 1988 massacre, and refer the dossier of these crimes to the UN Security Council. Ali Khamenei, Hassan Rouhani and other officials responsible for these crimes must be brought to justice. This is not only the right of the Iranian people, but also a prerequisite for peace and the fight against terrorism."
Secretariat of the National Council of Resistance of Iran
December 17, 2018