Maryam Rajavi expresses gratitude to Iranians, parliamentarians, lawyers, and political figures Underscores global campaign will continue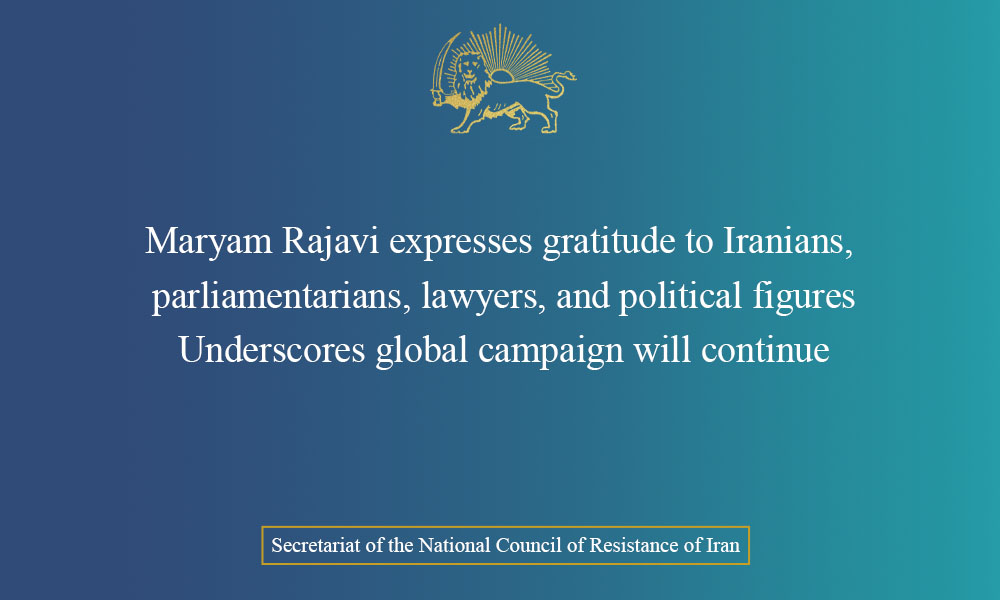 Mrs. Maryam Rajavi, the President-elect of the National Council of Resistance of Iran (NCRI), extended her gratitude to all Iranians, parliamentarians, lawyers, and political figures participating in the global campaign against the shameful deal with the religious fascism ruling Iran to release of the terrorist-diplomat, who masterminded the plot to bomb the Free Iran World Summit 2018 near Paris.
In particular, she thanked the parliamentarians, lawyers, and demonstrators in Belgium and their persistence against sacrificing justice, democracy, and human rights. She noted: So far, they have brought to light many realities and discredited and condemned auctioneering values and the rule of law.
Mrs. Rajavi praised the global campaign, demonstrations and protests of Iranians in Belgium, Austria, France, Sweden, United States, Germany, Norway, Italy, Canada, the Netherlands, Denmark, U.K., Australia, Romania, and Luxembourg. She described these campaigns as the determining factor in enlightening and awakening the public opinion against this deal and underscored the necessity of continuing them.
Mrs. Rajavi added: In consultation with lawyers and parliamentarians in various countries, especially in Belgium, the MEK and the NCRI have examined various political and legal avenues and options, and will do everything in their power, to prevent the regime's terrorist diplomat from evading justice. If necessary, the case will be referred to the Belgium's Constitutional Court and the European Court of Human Rights so that, as the lawyers wrote to the Belgian Prime Minister, "making a mockery of the rule of law and the immunity of the Iranian regime and its officials, involved in terrorism and crimes against humanity," would be prevented.
Mrs. Rajavi called on Iranians and supporters of the Iranian Resistance to enhance step up their support to prevent the adoption of this shameful deal with the religious dictatorship ruling Iran by the Belgian Parliament.
Secretariat of the National Council of Resistance of Iran (NCRI)
July 5, 2022