The Coronavirus death toll in Iran exceeds 400,000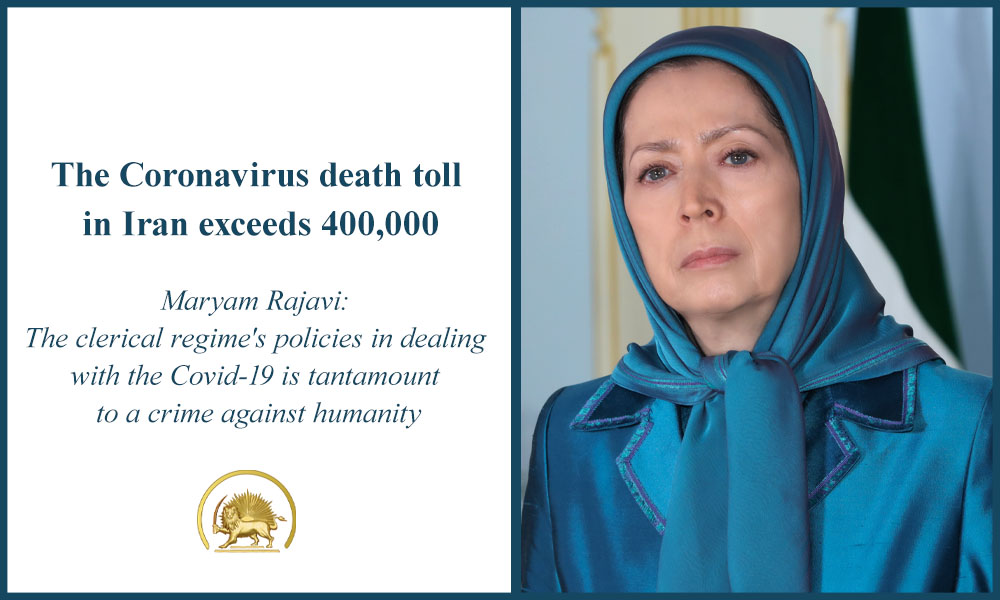 Maryam Rajavi: The clerical regime's policies in dealing with the Covid-19 is tantamount to a crime against humanity
The most conservative estimates indicate that the Coronavirus death toll in Iran surpasses 400,000, which is by far the highest per capita death toll globally.
I extend my condolences to the people of Iran, particularly to the victims' families, and I wish recovery for the sick. The main reason for the staggering death toll in Iran is the clerical regime's criminal and predatory policies. Otherwise, the majority of the deaths could have been avoided.
Since the outset, the Iranian Resistance declared that [the mullahs' supreme leader, Ali] Khamenei seeks to preserve his regime from the threat of uprisings and overthrow by adopting the policy of massive human casualties, sending people to the inferno of the Coronavirus. His criminal order to ban the purchase of vaccines was in line with such a policy.
The Iranian people's lives and health are worth nothing to Khamenei. He only thinks of preserving the disgraceful rule of religious fascism. Banning the import of vaccines, failure to provide Iranian workers' minimum needs, which forced them to go out to work to earn a meager living, and refusing to pay healthcare workers' salaries are but part of the regime's conduct in this regard.
The regime's policies in "tackling" the Coronavirus pandemic are undoubtedly tantamount to a crime against humanity. The regime's leaders, especially Ali Khamenei, Ebrahim Ra'isi, Hassan Rouhani, and Saeed Namaki [the former Health Minister], must face justice for this crime.