European Parliament delegation meets PMOI leader in Tirana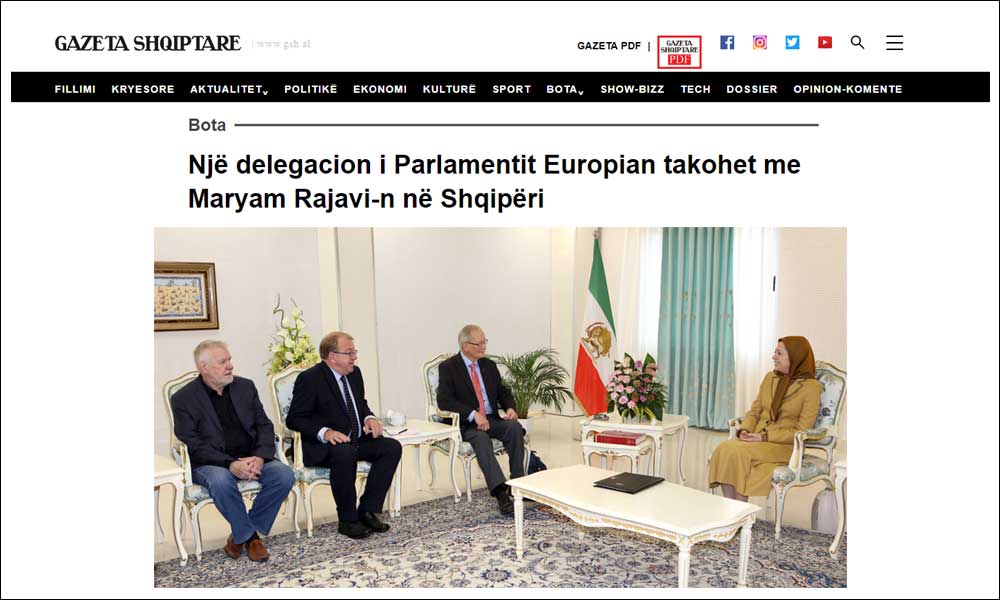 The EP delegation included Messrs. Tunne Kelam, member of the Foreign Affairs Committee and Vice Chairman of the Friends of a Free Iran inter-parliamentary group in the European Parliament, Jaromir Stetina, Vice Chairman of the EP Subcommittee on Security and Defense and member of the Foreign Affairs Committee; and Struan Stevenson, Coordinator of the Campaign for Iran Change, former member of the European Parliament, and former President of the European Parliament's Delegation for Relations with Iraq (2009-2014).
Noting the joint statement of 150 members of the European Parliament which condemns violations of human rights in Iran and its terrorist plots in Europe, the EP delegation declared their support for the People's Mojahedin Organization.
The signatories of the statement belong to six main political groups of the European Parliament that represent 27 member states of the European Union. They include four former Vice-Presidents of the European Parliament and 14 Chairs of European committees and delegations.
The signatories of the statement have expressed their concern over deterioration of the human rights situation in Iran and repression of women. The MEPs pointed out that Iran "has maintained the highest number of executions in the world per capita during the presidency of the so-called 'moderate' Hassan Rouhani."
Maryam Rajavi expressed her appreciation for the MEPs' decisive positions on the Iranian regime and their support for the Iranian Resistance.
Maryam Rajavi reiterated the need to impose comprehensive sanctions against the Iranian regime's banking system and shipment of oil, and expel the Revolutionary Guard Corps and its proxy militias from Syria, Iraq and other countries in the region. She also urged the adoption of immediate measures to hold the regime accountable for its widespread political executions in Iran, particularly the massacre of 30,000 political prisoners in 1988. Maryam Rajavi further called for an investigative committee launched to examine this great crime against humanity and bring the perpetrators of this crime to justice.
http://www.gsh.al/2018/11/25/nje-delegacion-parlamentit-europian-takohet-maryam-rajavi-n-ne-shqiperi/