The Swedish Judiciary upheld a life sentence for Hamid Noury, one of the perpetrators of genocide and crimes against humanity in 1988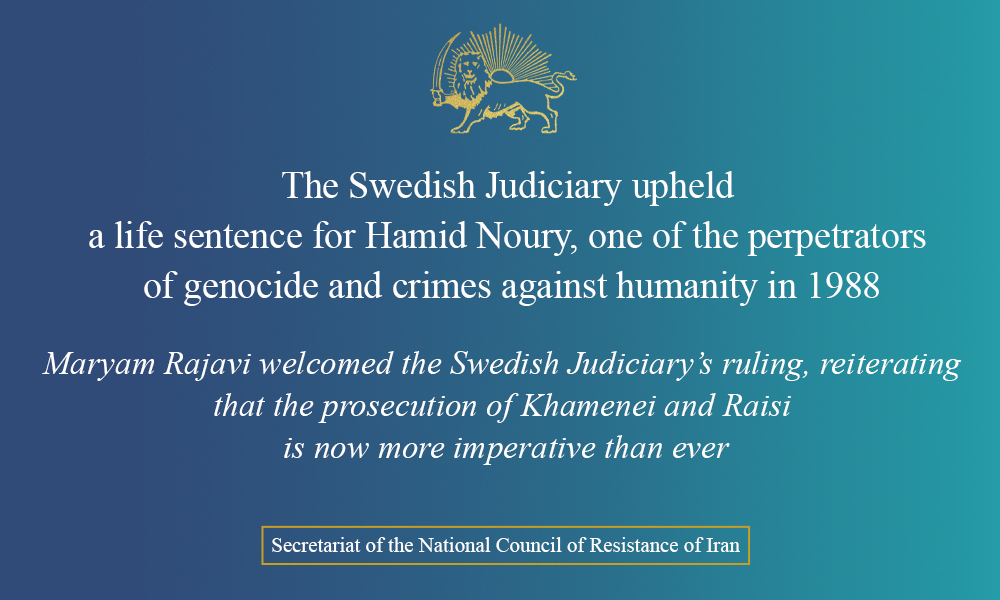 Maryam Rajavi welcomed the Swedish Judiciary's ruling, reiterating that the prosecution of Khamenei and Raisi is now more imperative than ever
Mrs. Maryam Rajavi, the President-elect of the National Council of Resistance of Iran (NCRI), welcomed the conviction of Hamid Noury, one of the perpetrators involved in genocide and crimes against humanity in 1988, by the Swedish judiciary to life impisonment and called it a first step in the path of full justice. She added that comprehensive justice, of course, will be achieved when the main perpetrators of the crime, especially Ali Khamenei and Ebrahim Raisi, and other perpetrators, are put on trial in the courts of a free Iran or international tribunals.
In 92 hearings, the Swedish court dealt with a number of events in only one prison (Gohardasht) out of more than 100 prisons where the massacre was carried out. The dossiers on the massacre in Evin and the enormous crime that took place in more than 100 cities, and on the heroic actions of women affiliated with the People's Mojahedin Organization of Iran (PMOI/MEK) in the 1988 massacre and the executioners' crimes against them should be opened.
Referring to the statements made five days ago by Hossein-Ali Nayeri, the head of the Death Committee in Tehran, who said that if there were no massacre, "may be the regime would not have survived at all", Mrs. Rajavi pointed out that the 1988 massacre is the story of confrontation between the religious dictatorship and the PMOI/MEK, which the regime perceives as an existential threat. Khomeini's fatwa to massacre all steadfast MEK members and sympathizers who refused to cooperate with the religious fascism and participate in its crimes still stands a criterion for the regime's action against the MEK and the Resistance. Their physical, political, and ideological elimination has always been at the top of the regime's priorities.
Mrs. Rajavi added that the extensive legal, political, and informative campaign of the Iranian Resistance in the past 33 months and the verdict handed down by the court defeated the Ministry of Intelligence's conspiracy and its agents to divert the Justice Movement against the MEK. The strong testimonies and convincing documents of the witnesses and plaintiffs, especially in Ashraf 3, played a decisive role in proving Noury's guilt and prevented him from evading justice. In fact, the trial would have turned out differently if some of the court sessions had not been held in Albania.
Mrs. Rajavi emphasized that prosecuting Khamenei and Raisi is now more imperative than ever. In the face of the regime's hostage-taking and blackmail and to avoid the very trap that the Belgian government fell into, the Swedish government should immediately order the prosecution of Raisi, as the executioner of 1988, for genocide and crime against humanity. More than 1,000 political prisoners tortured by the Khomeini regime, more than 900 of whom are in Albania, are ready to file complaints.
Secretariat of the National Council of Resistance of Iran
July 14, 2022