Teachers and retirees' protests in Tehran and other Iran cities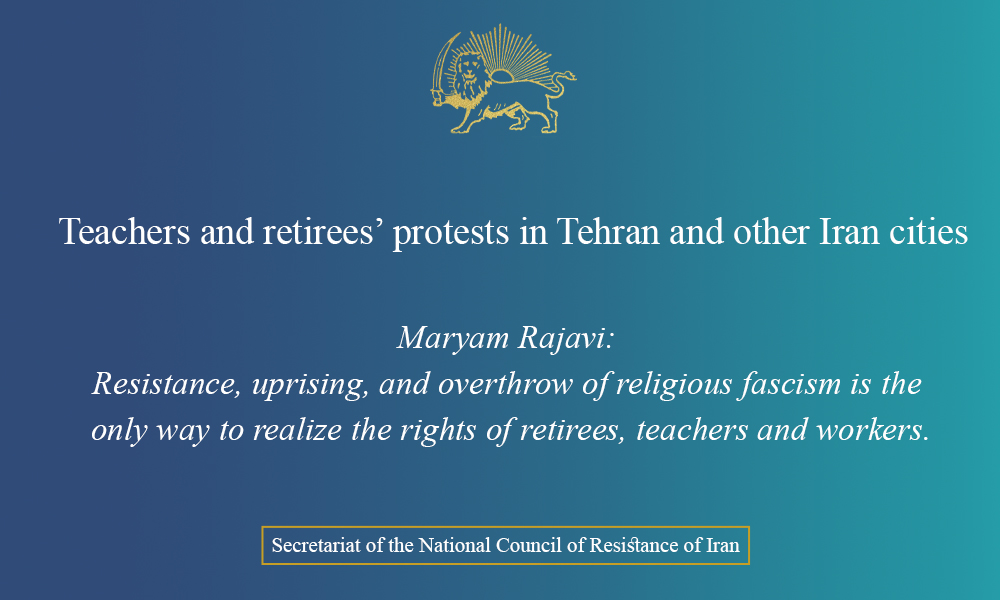 Maryam Rajavi: Resistance, uprising, and overthrow of religious fascism is the only way to realize the rights of retirees, teachers and workers
On Sunday morning, October 3, 2021, teachers, pensioners, and retirees in Tehran and 16 other cities rallied to protest discrimination, low wages, poor living conditions, and the regime's disregard for their legitimate demands.
Teachers in Tehran gathered outside the regime's parliament, and in Isfahan, Shiraz, Ahvaz, Kerman, Bandar Abbas, Zanjan, and Darab in front of the local Education departments. Earlier, the regime's Intelligent Ministry agents had warned them against holding any gathering. Teachers chanted: "Teachers demand your rights," "We do not want empty promises," "livelihood is our inalienable right," and "free education is the right of our children."
Simultaneously, protests by retirees were held in front of the Social Security offices in Tehran, Mashhad, Tabriz, Khorramabad, Ahvaz, Isfahan, Qazvin, Arak, Borujerd, Kermanshah, Karaj, and Rasht. The protesters chanted: "Be afraid (calling on the officials), we are all united," "Retirees die, but they will not accept humiliation," "Our plates are empty, enough of empty promises," "Inflation, high prices, are like a plague on people's lives," "Retirees are aware and hate discrimination," and "Retirees' demand is to be paid salaries commensurate with inflation."
Mrs. Maryam Rajavi, the President-elect of the National Council of Resistance of Iran (NCRI), hailed the freedom-loving teachers and retirees in Iran who took to the streets to demand their rights despite high risks and security forces' threats. Resistance, uprising, and the overthrow of the religious fascism is the only way to realize the rights of retirees, teachers, and workers, she said, adding, for years, the mullahs have squandered the assets and properties of the vast majority of the Iranians on suppression, warmongering, terrorism, and the unpatriotic missile and nuclear programs. The regime has brought the people nothing but oppression, discrimination, poverty, unemployment, and inflation.
Secretariat of the National Council of Resistance of Iran (NCRI)
October 3, 2021