The brave workers of the Haft Tappeh Sugar Cane Mill interrupted state Friday prayers in the city of Shush on the twelfth day of their strike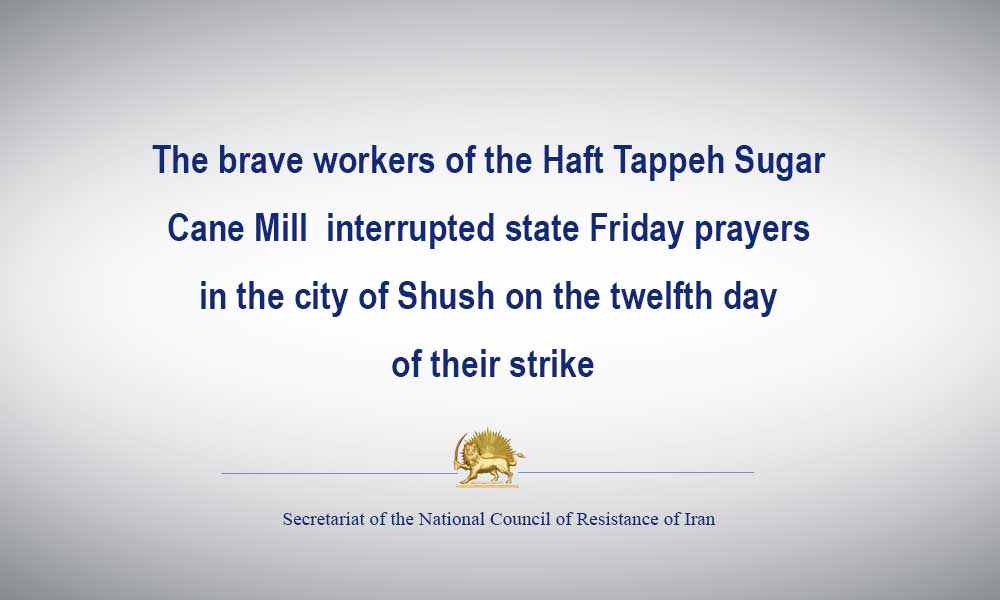 In protesting against the destruction of this economic magnet of the country by the clerical regime, in a symbolic action, workers carried the coffin of the Haft Tappeh sugar cane and chanted: "Today is a day of mourning". The workers who are from different parts of the mill then gathered at the venue of the Friday prayers show of the regime, and by turning their back to the speaker of the ceremony, and by chanting "Facing the homeland, back to the enemy", "the worker dies, he does not accept humiliation", "Death to the oppressor; Peace be upon the Worker" interrupted these hypocritical and deceptive ceremonies.
The Haft Tappeh Sugar Cane Industrial Complex has about 4,000 official permanent and on contract workers. The new round of workers strike is taking place in protest against the non-payment of months of salary, insurance claims and other arrears, and the livelihood conditions of all the workers. Workers call for the establishment of independent labor councils and the determination of the status of this large economic complex of the country. The regime's authorities and plundering employer refuse to deal with the legitimate demands of workers by giving hollow promises.
Saluting the strikers, Maryam Rajavi, said: "The workers of the Haft Tappeh Sugar Cane Mill, with the slogan 'Neither threats, nor imprisonment, has no longer any effect', have risen up against the oppression on the workers, and with the slogan 'We are hungry', call on every noble human being for the uprising against the clerical plunderer regime." She urged the international human rights organizations and trade and labor unions around the world to support the striking workers in Iran.
Secretariat of the National Council of Resistance of Iran
November 17, 2018