Haft Tappeh Sugar Cane Workers' Demonstration, accompanied by people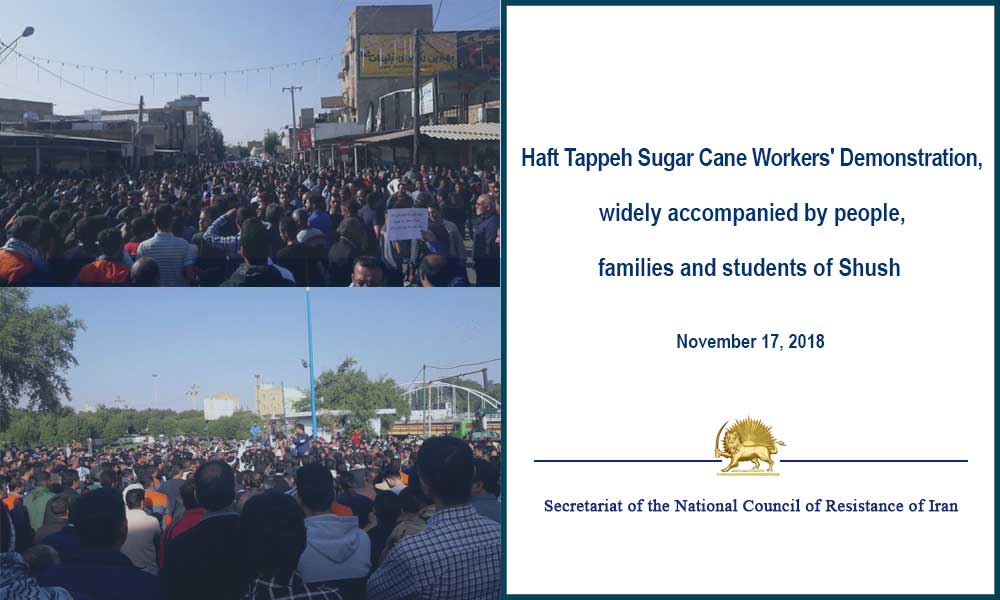 On Saturday morning, November 17, the Haft Tappeh Sugar Cane Mill hard-working workers gathered in front of this complex and marched to the governorate office in dense ranks. Young people, students and workers' families participated extensively in the demonstration. Women played a significant role in front of the demonstrators. This massive demonstration took place in spite of repressive measures and the creation of a climate of fear and terror, including the presence of scores of the special anti-riot and other repressive forces in the governorate and the city.
The protesters chanted: "We are workers of the Haft Tappeh, we are hungry, hungry", "Down with the oppressor, hail to the worker", "Worker dies, does not accept humiliation", "One less embezzlement, our problem will be solved!", "the betrayal of the authorities must be announced", "we do not want incompetent officials", "Government, embezzler, happy marriage!"
Protesters, including students, carried hand written banners reading: "We are children of Haft Tappeh , we are hungry", "Dad gave water, Dad gave bread, is no longer our slogan; Dad gave his life", "We do not want false promise, we want our rights."
In their protest to unemployment, poverty and hunger, workers symbolically put up empty tables in front of the market and the governorate.
Representatives of the workers protested in their speeches to the anti-workers' plans of the regime and the assignment of this economic pole of the country to the plunderer gangs affiliated with Jahangiri, the first deputy of Rouhani, and emphasized the need for continued protest to achieve their rights.
At the same time, Ahvaz Steel hard working workers, who last week went on strike to protest non-payment of their four months' salaries and benefits, once again gathered in front of Khuzestan governorate in Ahvaz and then march to the city governorate office. They called for payment of their arrears, setting up production lines, and guaranteed occupational safety and payback. They chanted: "Steel, Haft Tappeh, Unity, Unity; Neither threats nor prison has no longer any effect; Lest we accept humiliation; No nation has seen this much injustice; Down with this deceiver government; Our enemy is here, they falsely say it is the United States."
Maryam Rajavi, saluted the women leaders in the passionate demonstration of Haft Tappeh workers on Saturday who cried freedom and justice by chanting "Worker dies, does not accept humiliation", and said: "Leadership of women in the strikes of Iranian teachers and workers is a pride and flares up the flames of uprising and justice." She called the voices of the brave strikers of Haft Tappeh and Ahvaz Steel as a voice for the freedom and justice of the Iranian people, calling on all young people to support these leading workers. She urged all international human rights organizations and trade unions around the world to support the striking workers in Iran.
Secretariat of the National Council of Resistance of Iran
November 17, 2018