Mrs. Maryam Rajavi condemned the inhuman treatment of infected women in Ahvaz Prison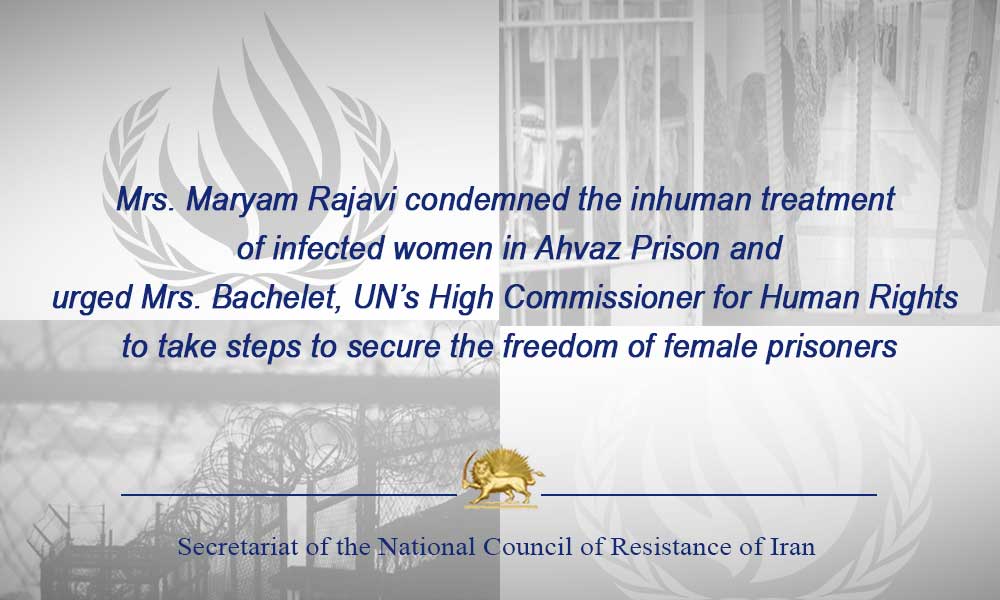 She urged Mrs. Bachelet, UN's High Commissioner for Human Rights to take steps to secure the freedom of female prisoners
The People's Mojahedin Organization of Iran (PMOI / MEK) announced On Monday, May 4, 2020 that the Coronavirus death toll has exceeded 39,000 in 312 cities across Iran. The number of victims in Tehran is 6,470, Khuzestan 1970, Alborz 1,520, West Azerbaijan 1,200, Hamedan 970, Kermanshah 960, Lorestan 925, Chaharmahal and Bakhtiari 312, Hormozgan 152
At Sina Hospital in Tehran, the necessary equipment for doctors and nurses has been minimized. Hospital control is in the hands of so-called ideological and political mercenaries, and anyone who protests will be fired. If someone is filming, they will be interrogated, and their phones will be confiscated.
While the Friday prayer show is scheduled to take place in 157 cities this week (IRNA, May 3), today the Health Ministry's Epidemiology Committee announced, "The upward trend or the beginning of the peak in 15 provinces (Qom, Lorestan, Ilam, Gilan, Golestan, Khorasan Razavi, Kohgiluyeh and Boyer-Ahmad, Khuzestan, Hormozgan, Kerman, Yazd, Isfahan, Zanjan, Chaharmahal and Bakhtiari and Kermanshah) is observed" reported the state-run news agency, ISNA.
Dr. Mohammad-Reza Mahboobfar, a member of the Coronavirus Prevention Committee, told the state-run daily, Vatan Emrouz, "The division of the country's geography into white, yellow and red areas to fight Coronavirus has no scientific basis considering the widespread outbreak of this mysterious virus in the entire country and is just playing with words. Mr. President seems to be falsely optimistic by giving colors to cities and regions of the country weighing the Coronavirus outbreak in each region in this way, because there is no point in the country as a white zone free of Coronavirus.
In Gilan Province, today, Mohammad-Reza Naqipour, spokesman for the University of Medical Sciences, told the state-run news site, Tabnak, "The two entrance cities to the province, Astara and Rudsar, are considered "red", so we urge people to avoid unnecessary trips".
Meanwhile today, Reza Nejati, spokesman for the National Coronavirus Combat Taskforce (NCCT) in Khuzestan, whose remarks were published at Khuzestan Governor's Office website said, "Due to the high number of Coronavirus infected patients in several cities in the province, especially in Ahvaz, if the statistics are still high within the next three days … the relevant city will be quarantined"
According to a shocking report from Ahvaz's Sepidar Prison, dozens of women prisoners have contracted Coronavirus, but are denied access to medical facilities and care and have often not been quarantined. Mrs. Maryam Rajavi, the President-elect of the National Council of Resistance of Iran (NCRI), strongly condemned this inhumane treatment of the oppressed female prisoners and called on the United Nations High Commissioner for Human Rights Ms. Bachelet to take action to save the lives of the female prisoners from the mullahs' Judiciary.
On the other hand, during the Coronavirus crisis, the regime's parliament passed a bill to change the national currency from Rials to Tomans eliminating four zeros from the currency.
The President-elect of the NCRI, described the inevitable action following Rial's free fall as the most important sign of the official recognition of the crushing economy's bankruptcy.
Secretariat of the National Council of Resistance of Iran (NCRI)
May 4, 2020