Maryam Rajavi meets with a high level delegation of Syrian resistance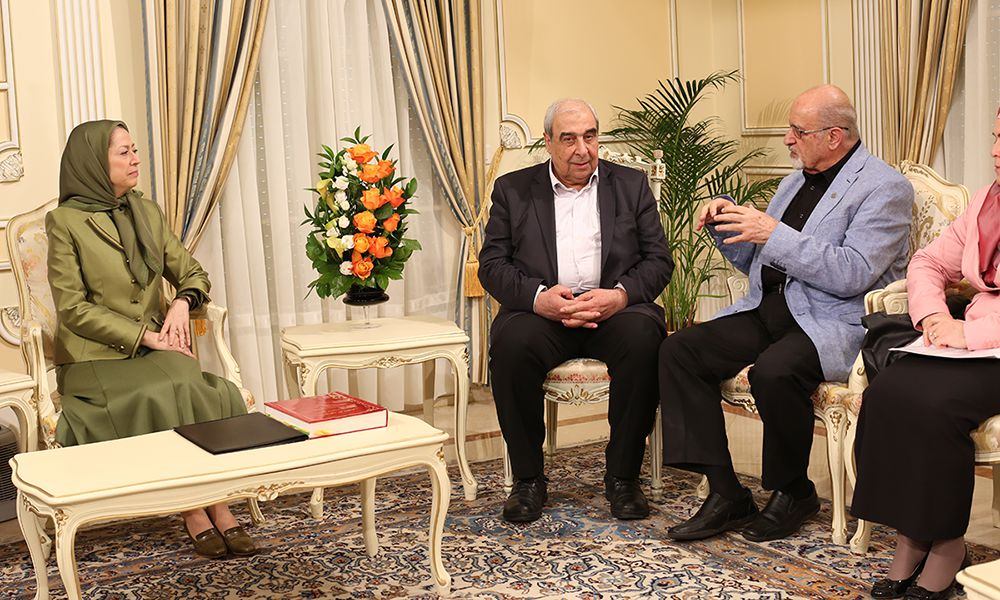 The Iranian Resistance's President-elect Maryam Rajavi met with a delegation of Syrian opposition officials and personalities on Saturday, 11 June 2016.
Syrian delegation was comprised of Mesdames Suheir al-Atassi, member of the High Negotiations Committee of the Syrian Opposition; Nagham Ghadri, member of the Coalition and former Vice Chair; Dr. Taghrid al-Hagli, former Minister in the Syrian
Interim Government; and Messrs Haitham al-Maleh, Chairman of the Syrian National Council legal committee; Michel Kilo, political bureau member of the Coalition; Dr. Nasser Al-Hariri, member of the Coalition leadership; General Abdallah Albashir al-Naimi, former chief of staff of the Free Syrian Army; Brig. General Mustafa Sheikh, a founding member of the Free Syrian Army; General Mesghal Al-Batish of the Syrian opposition; Ghassan Aboud, head of Orient TV; and Ahmad Kamel, press adviser of the High Negotiations Committee.
Mrs. Rajavi lauded heroism of the Syrian people and the revolution, especially in Aleppo, and said: While world powers are either on the side of Syria's butcher or remain indifferent or inactive, Syrian people's steadfastness in their sixth year of resistance heralds definite victory of Syrian people and revolution. Assad regime and its main supporter, religious fascism ruling Iran, are doom to fail.
Mr. Haitham al-Maleh thanked the Iranian resistance and Mrs. Rajavi for supporting Syrian people and revolution and said, today we are fighting on the same side against the same enemy and consider ourselves as part of your movement and resistance.
Other members of the delegation underlined the solidarity between the two nations and their resistances and pointed out the role of the clerical regime in killing people of Syria and its efforts to protect Bashar Assad in order to maintain its power in Tehran.