May 1st, International Workers' Day, promising the definitive triumph of justice and equality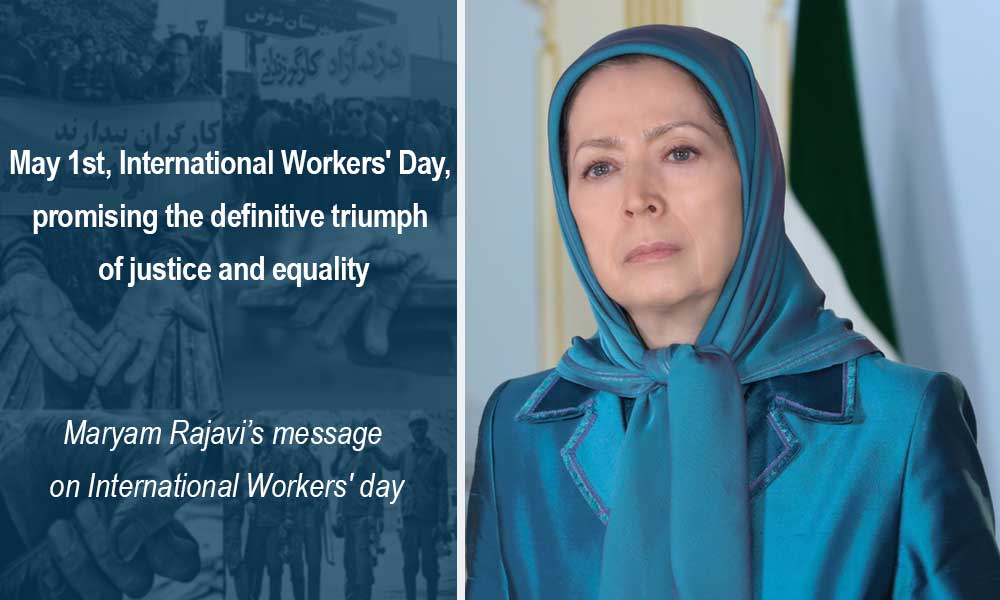 Maryam Rajavi's message on International Workers' day
Compatriots!
Working sisters and brothers,
Street vendors, drivers, porters, nurses, carpet weavers, farmers, workers that have been laid off, female breadwinners,
Millions of deprived unemployed women and men seeking jobs,
And all of Iran's hard-working people!
This year, the International Workers' Day comes at a time of grief and agony due to the coronavirus pandemic. But it still holds the promise of annihilation of oppression and exploitation, and the definitive triumph of justice and equality. Having been inspired by the pain, suffering and wounds of workers, this day bears the message that we can and we must overcome the coronavirus pandemic, poverty, unemployment and a plethora of oppressive conditions created by the mullahs' dictatorship, thereby liberating workers and all the people of Iran and leading them to victory.
The policies and propaganda of the Khamenei-Rouhani gangs are designed to downplay the impact of the coronavirus pandemic on Iranian society. Clearly, however, workers and the deprived and low-income sectors have been the main victims of the pandemic, while struggling with growing destitution.
Iranian workers who were already being viciously exploited under the mullahs' rule and at the hand of their corrupt accomplices, with their wages shrinking, have now lost even that trivial safety of work due to the outbreak.
Khamenei's and Rouhani's policies in dealing with the pandemic have been inhuman towards the Iranian society and particularly towards laborers and other working sectors.
Shutting down factories and production units was a common practice in all countries, but did not find its way into the mullahs-ruled Iran.
The clerical regime did not even reduce the workers' working hours. Instead, in some factories they are forced to work 12-hour days.
More than 90 percent of Iranian workers, including those working for projects, are hired on temporary contracts. Those hired by small workshops and a considerable portion of construction workers are deprived of insurance, and when they lose their jobs, they have no way of earning money to pay for their daily food expenses.
In many production centers, long working hours, shortage or lack of protective equipment, and overcrowding of workers as they go to work and at the work place have led to further spread of the virus among workers.
In addition, vast numbers of workers, particularly day laborers, those who work in small workshops with less than 10 workers, and street vendors had to go to work in densely populated places because if they lose one working day, they would gain no income and will effectively starve.
The broader reality is that workers of the construction sector, all of those who work on temporary contracts including teachers working in private schools, hair stylists, seasonal workers, personal deliverers of various products, employees of public transportation, workers of various trades including food shops, clothing stores, and peddlers, have lost their livelihood altogether.
Therefore, the mullahs have not only ruined workers' bodies and minds, they have also put them at risk of contracting the coronavirus.
The COVID-19 disease is crushing the lives and livelihoods of workers after the clerical dictatorship had already crushed Iran's working class with poverty, high prices and inflation, lack of job security, inadequate housing or inability to organize independently. The regime has deprived them of their most fundamental social and political freedoms and rights.
The clerical regime's own labor officials acknowledge that "the 1.5-million-toman ($100 according to the exchange rate in the open market) monthly salaries of workers can provide for only 10 to 12 days of a typical family's living costs."
The regime's officials say, "More than 3.5 million of the country's workers lack insurance." But even those workers who are covered by the so-called social insurance systems do not get anything out of it. Under the mullahs' rule, there are no social security or social safety nets in the true sense of the word to protect workers in the face of disease, unemployment, retirement or accidents.
A comparison between the situation of workers just prior to the pandemic with the past years shows that workers' rights and freedoms have been suppressed and trampled more and more every year. Under the mullahs' rule, there is no flickers of hope for improvement of their conditions.
Even before the outbreak of the coronavirus, the policy of the religious fascism was to exact the huge cost of its warmongering and suppression and plunder of the people from the pockets of Iran's working class through lowering of their wages and increasing temporary contracts.
After the coronavirus pandemic was added to the mullahs' anti-labor policies, Iranian workers faced a crossroads that forced them to choose between death and starvation.
So, not only the rights and livelihood of Iranian workers but their lives are contingent on the regime's overthrow.
The clerical regime must be pressured and compelled to pay the salaries of workers who must not go to work in order to protect their health, to provide all expenses for treatment of workers infected with COVID-19 and to pay salaries to their families, to provide protective equipment for workers whose production units cannot be shut down, to pay the overdue salaries of nurses, healthcare workers and hard-working employees of hospitals, and to address all the overdue demands of workers for respecting their basic rights.
As the Iranian Resistance Leader Massoud Rajavi said, "One has to obtain one's own rights. One must rebel and snatch it from the mullahs' hands."
We salute all the working sisters and brothers who continued their righteous protests over the past year. I call on everyone to expand their resistance and struggle to overthrow the mullahs' theocratic regime.
The day is not far when Iran's brave workers will rise up hand in hand with the Resistance Units and the great Army of Freedom for restitution of the Iranian people's freedoms and their right to people's sovereignty.