Iran: Retirees launch nationwide rallies and protests in 20 cities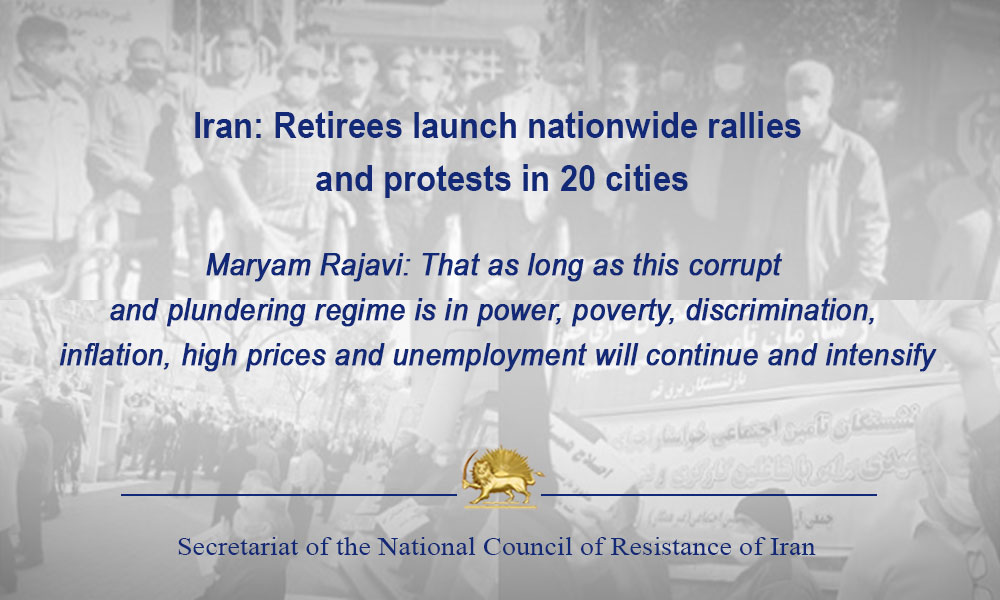 Maryam Rajavi: That as long as this corrupt and plundering regime is in power, poverty, discrimination, inflation, high prices and unemployment will continue and intensify
"We won't rest until we get our rights," "Unity is the only way to get our rights," "The nation has never seen so much injustice"
On Sunday morning, February 21, 2021, retirees and pensioners living on social security rallied for the third week in a row in Tehran and 19 other cities to protest their meager wages, given the hyperinflation and rising prices that have made life unbearable for them. In addition to Tehran, these protests took place in Tabriz, Arak, Isfahan, Rasht, Mashhad, Kermanshah, Ahvaz, Yazd, Khorramabad, Ilam, Qazvin, Karaj, Bojnurd, Neyshabur, Shushtar, Dezful, Shush, Sari, and Ardabil.
The demonstrators chanted: "We won't rest until we get our rights," "Unity is the only way to get our rights," "Enough of hollow promises, enough oppression and injustice, our tables are empty," "Pension fund is plundered," "We are paid in rials (Persian currency equal to 0.000024 USD), while our expenses are in dollars," "The nation has never seen so much injustice," "We are outraged by so much injustice," "Shame on the Social Security," "Neither the parliament nor the government care about the nation," "The judiciary has wrecked the 'Pension Fund' "The Pension Fund is plundered." The protesting retirees also carried placards that read: "Increasing salaries and benefits based on real living costs is our inalienable right as retirees," "Poverty line 12 million rials, our salary is 2 million rials."
In Tehran, demonstrators marched towards 'Organization of Planning and Budget,' chanting slogans and expressing their anger at the failure to address their legitimate demands. One of the retirees said in his speech: "This rally was a warning, to let them (the regime officials) know that we do not always gather here and stand and chant … next time it will not be like this!… We are the ones who have worked in factories and companies for thirty years. I am not willing to stand here to see them take away our rights. We will not give up until we get our rights."
Mrs. Maryam Rajavi, the President-elect of the National Council of Resistance of Iran (NCRI), saluted the deprived retirees who have risen up and protested to obtain their rights and said that as long as this corrupt and plundering regime is in power, poverty, discrimination, inflation, high prices and unemployment will continue and intensify.
Secretariat of the National Council of Resistance of Iran (NCRI)
February 21, 2021