Nationwide protests by retirees and pensioners in at least 22 cities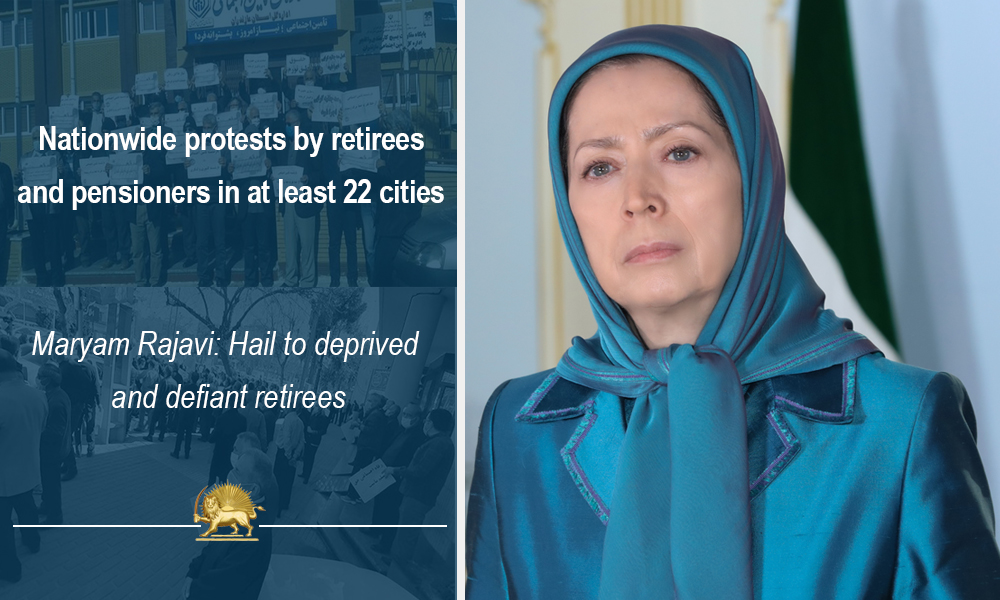 Maryam Rajavi: Hail to deprived and defiant retirees
I salute the deprived and defiant retirees and pensioners. Those who insistently pursued their protests until achieving their rightful demands with chants of "We will not rest until we get our rights," and "Only by taking it to the streets, we could gain our rights."
I urge the youth to support the retirees' nationwide movement. So long as this regime is in power, poverty, inflation, and unemployment, as well as corruption and repression, will continue.
On Sunday, February 14, 2021, despite the clerical regime's suppressive measures, threats, and empty promises, a large number of social security retirees gathered in Tehran and 21 other cities in Iran to protest against inflation, unbearably high prices, and low retirement benefits. They chanted: "We are tired of the injustice," "Our country sits on rich resources, but the retirees are suffering," "The gatherings will continue until we reach our goals," and "Our enemy is right here, they lie claiming it's America."
Retirees in Tehran, who were holding their largest protest rally in recent months, chanted "Enough hollow promises, we have no food," "(Mohammad) Qalibaf (the regime's parliamentary speaker), come out, Qalibaf, come out."
In addition to Tehran, large numbers of retirees and social security pensioners gathered in front of the Social Security Organization in the cities of Tabriz, Neyshabur, Arak, Ahvaz, Kermanshah, Yazd, Khorramabad, Isfahan, Ardabil, Shush, Ilam, Qazvin, Shiraz, Karaj, Mashhad, Sanandaj, Kerman, Bojnurd, Dezful, Zanjan, and Hamedan, protesting for their demands. In Ahvaz, retirees also marched in the streets.
On Wednesday, February 3, 2021, retirees and pensioners of the Social Security Organization had also staged a protest rally in 20 cities across Iran.