Maryam Rajavi: Installing as president a mass murderer and a criminal against humanity reflects the regime's desperation, foreshadows the overthrow of the ruling theocracy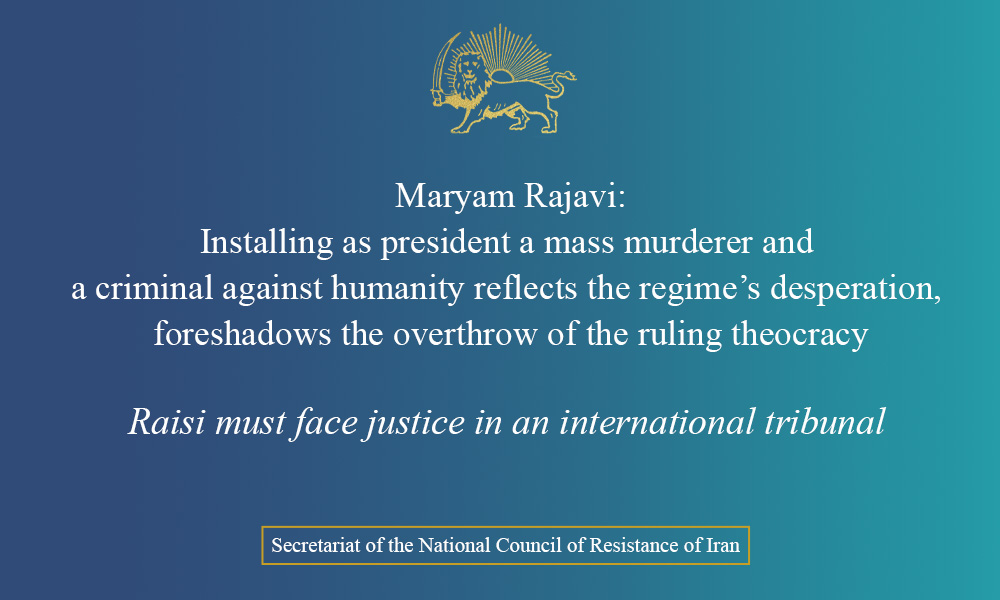 Raisi must face justice in an international tribunal
Mrs. Maryam Rajavi, the President-elect of the National Council of Resistance of Iran (NCRI), said the following after the regime announced the results of its sham presidential election:
Despite astronomical rigging and falsifying the vote tally, the dimensions of the popular boycott were so extensive that the regime succumbed to announcing a lower than 49 percent turnout, plainly admitting that the majority of Iranian people boycotted the sham election and testified to its illegitimacy.
The astronomical fraud and the five-fold multiplication of the vote tally in the dark rooms of "vote counting" does not fool anyone in Iran, nor does it change the truth.
Ebrahim Raisi, the henchman of the 1988 massacre and the murderer of the Mujahedin-e Khalq (MEK/PMOI), is Khamenei's final bid to preserve his regime. Installing a mass murderer and a criminal against humanity as the regime's president, is a sign of desperation that the regime has reached the end of the line and faces overthrow. Raisi must be brought to justice in an international tribunal.
There is no longer any justification for the international community to engage or appease a regime whose president is one of the worst criminals against humanity in modern history. The world must stand firmly against the ruling religious fascism, and in solidarity with the Iranian people and their demand for the overthrow of this regime and the establishment of a democratic republic.
Secretariat of the National Council of Resistance of Iran (NCRI)
June 19, 2021