Maryam Rajavi: Need for a new international campaign to protect residents of Ashraf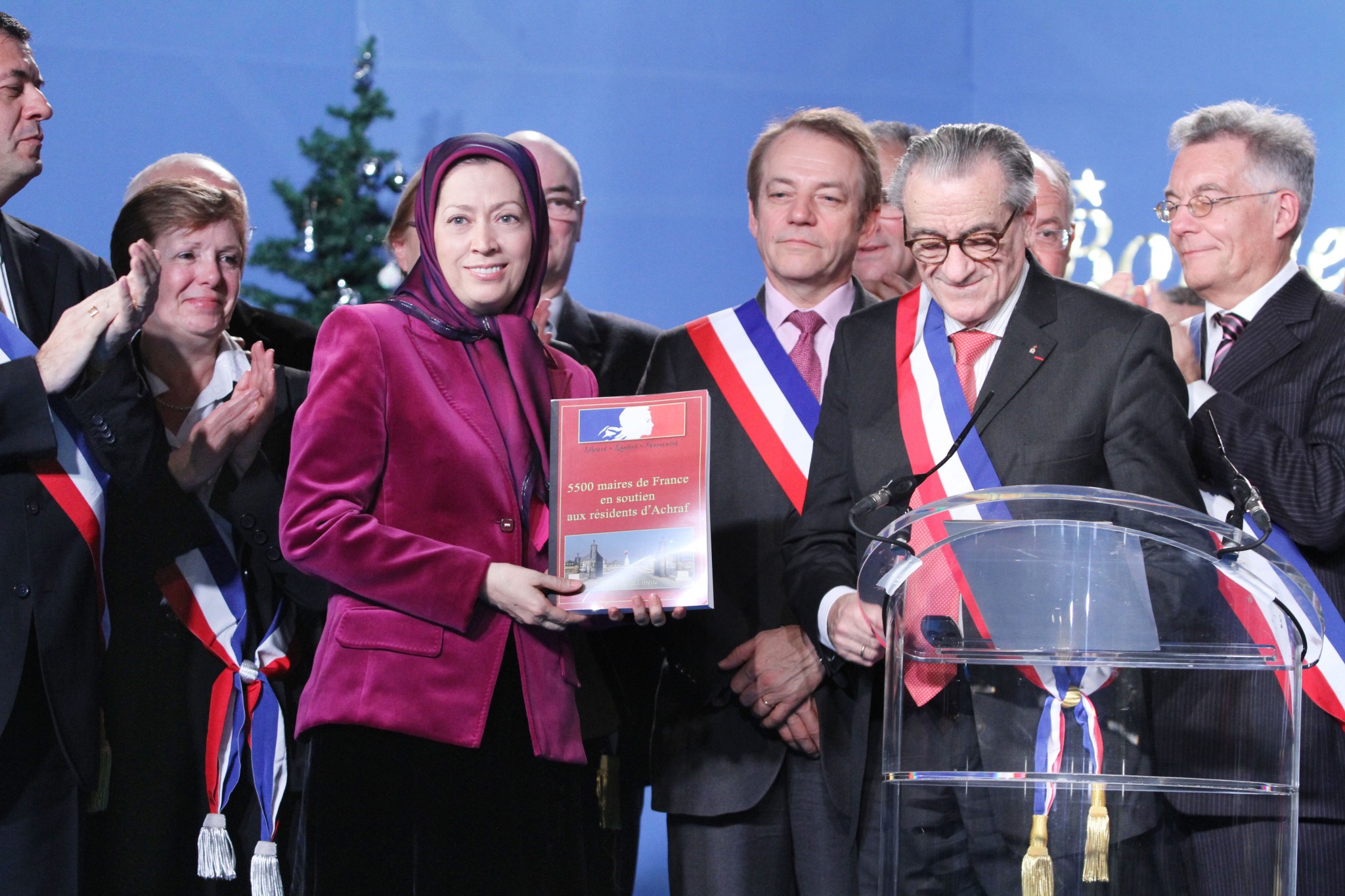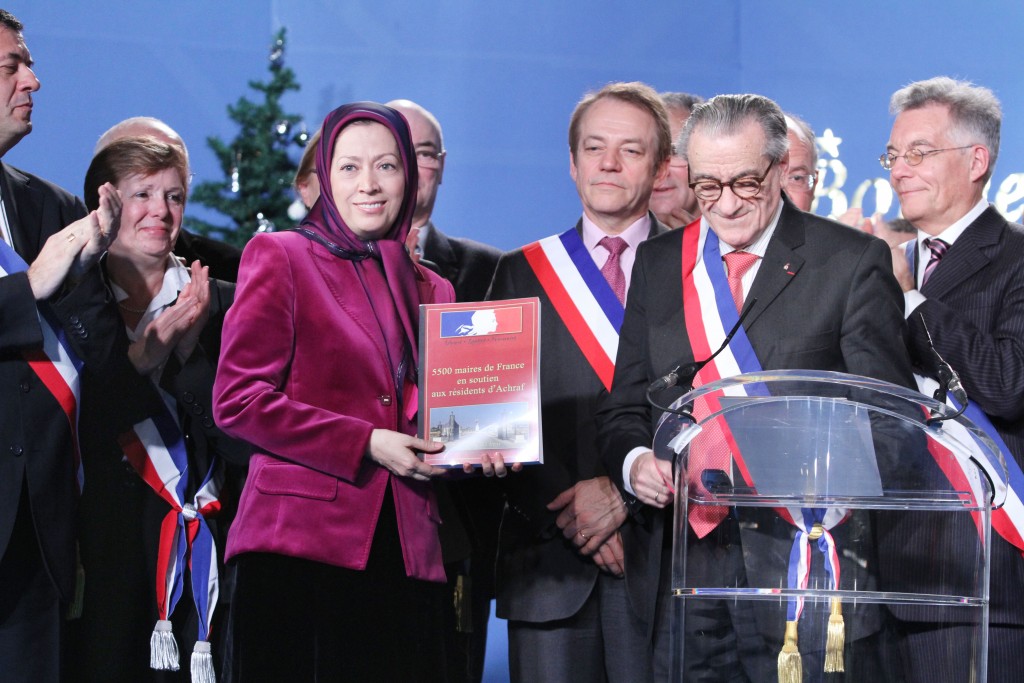 Speech to the New Year meeting with the French mayors and elected representatives
Honorable mayors,
Ladies and Gentlemen,
Dear friends,
Happy New Year to all.
I wish you and all the people of France a year full of joy, health and success. Last year the world experienced many pains but also many joys. When young people in the Middle East, Syria and Ashraf fell for freedom, these were days of sadness and when dictators fell, these were days of joy for all who fight for freedom around the world.
This year, we had a great pain of losing Madam Mitterrand, great advocate of human rights, but her values are still alive.
But our world is moving towards freedom and happiness because there are men and women who want change. And it is the spirit of the feast of the New Year.
For Iran, last year, the perseverance of Ashraf residents and the campaign in defense of Ashraf were the driving force behind the struggle for freedom and human rights.
The deadline to close Ashraf December 31 was postponed until April and it's a great achievement.
The mullahs who wanted to massacre the Ashraf residents had a harsh defeat. A memorandum of understanding was signed between the UN and Iraq to relocate Ashraf residents to Camp Liberty, a suburb of Baghdad, where the UN has pledged daily monitoring, where the U.S. has promised to regularly send observers, and where the High Commissioner for Refugees will begin its work to send Ashraf residents to third countries.
As a goodwill gesture, a first team agreed to leave Ashraf for Camp Liberty with its vehicles and personal assets and required a minimum guarantee for their protection.
But that seems not to be easy. First, the Iranian regime launched three rocket attacks at Ashraf at the end of December. Then Iraq did not let Ashraf residents to take their vehicles and their moveable assets. Iraq does not allow a team of engineers visit Camp Liberty in order to see what must be provided.
Then we learned that the camp that was supposed to be 40 km2 is reduced to less than one km2. The Iraqis are building concrete walls to 4 feet high around the new camp Liberty. Contrary to the agreement signed with the UN, Iraq banned visits of lawyers and families of the residents. In fact, Iraq is building a prison and does not guarantee a minimum protection.
In a conference in Paris, on January 6, eminent jurists have said that this relocation is a displacement or deportation to a prison camp. They announced that Ashraf residents should not accept this situation. So the campaign for the protection of the residents continue even stronger, because the dangers are becoming greater and their transfer to a prison is the red line that should not be exceeded.
The Iranian regime and Iraq want to derail the resulting solution. America and the UN are responsible to prevent violations of this minimum agreement.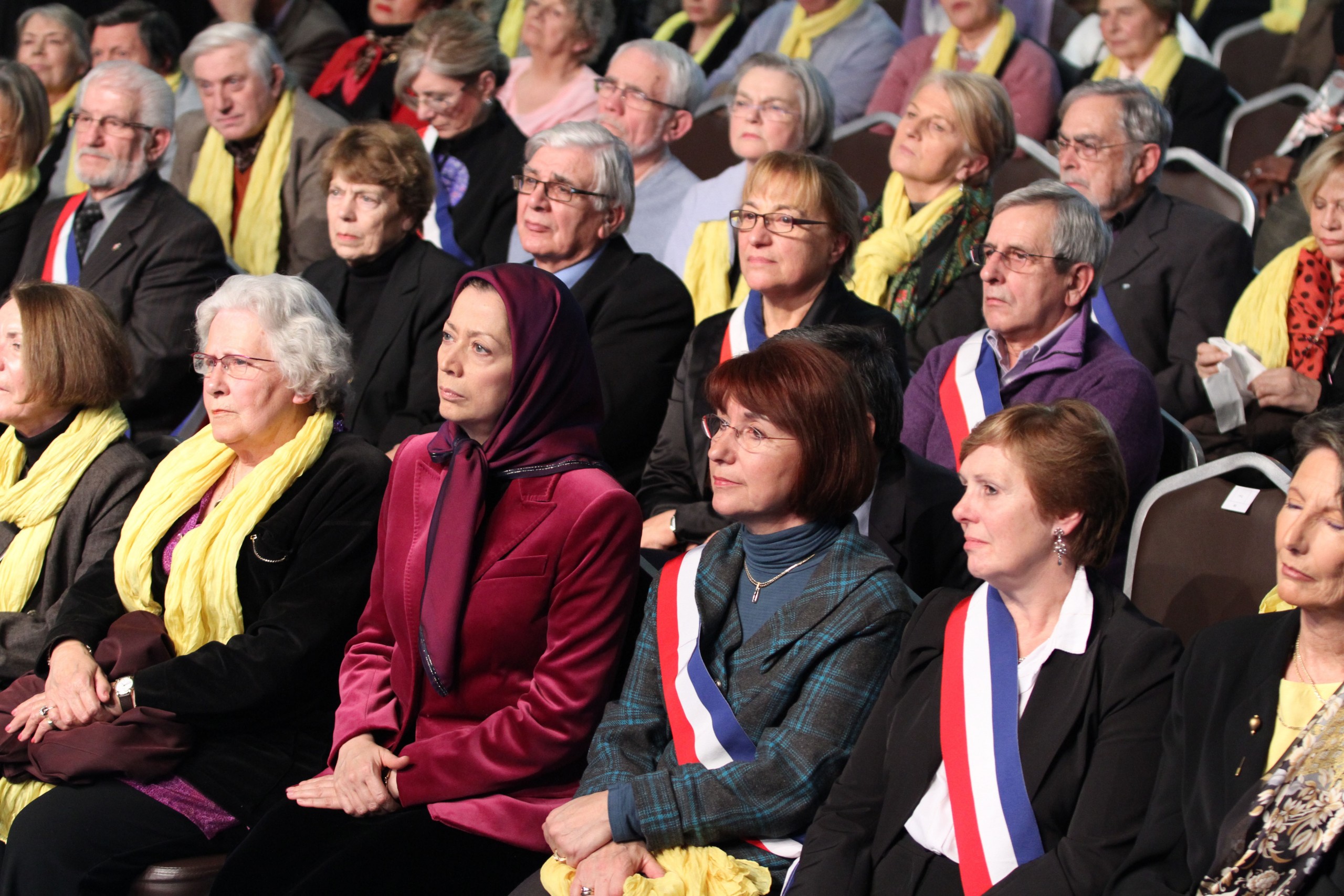 Dear friends,
Last year the mullahs showed that they had got very close to the atomic bomb.
That is why many governments are thinking to exert pressure on the Iranian regime.
France has even asked for an oil embargo. These measures are positive, but probably not sufficient.
To show firmness to the mullahs, there is only one solution and it is the resistance of the Iranian people and a regime change by the Iranian people and their organized resistance. This is the only movement that the mullahs are afraid of.
The organized movement that all sought in Libya, Syria and Egypt, exists in Iran.
Just Western governments must take away obstacles from its way.
It is a movement that the French and European justices have approved its legitimacy. The majority of French parliamentarians have called for recognition of the Iranian Resistance. 5500 French mayors and their councils have called for the protection of Ashraf residents.
On the other hand, many brave French citizens as our dear neighbors in Val d'oise department and in other departments of France have made great efforts in the campaign for the protection of Ashraf. They were everywhere, in Geneva, Brussels, Washington, in sit-ins, demonstrations and all conferences. They effectively supported the campaign through letters and meetings.
I would like to honor our deceased friends Mr. Gilbert Broutin, Mrs. Monique Deforestel and Mr. Mohamed Lachguer that were alongside the Resistance in very difficult times.
Dear friends,
The human essence shined during these difficulties. It guided us and pushed us forward. It was a source of solidarity across the world. Thanks to this value we have witnessed women and men who stand to help the Iranian Resistance. They forgot the interests of their parties, the differences between cultures and religions and came together for a single goal. A goal for a just and legitimate resistance that has suffered greatly for freedom and democracy in Iran. That is why we want to put an end to tyranny and injustice.
We are the target of allegations because we stand for equality between women and men, we defend separation of church and state, human rights and a nuclear-free Iran. And we will never give up the freedom of our country.
So as the old year gives its place to the New Year, religious and political repression will give their place to freedom.
Yes, we still have a long way to go together, so I call on all our friends and the French people to help us especially in this situation, because we need a new international campaign to protect residents of Ashraf and also for the overthrow the mullahs regime, for freedom and democracy for the Iranian people.
Thank you and I wish you a happy new year full of health and success