The repressive forces attack protest in support of Isfahan farmers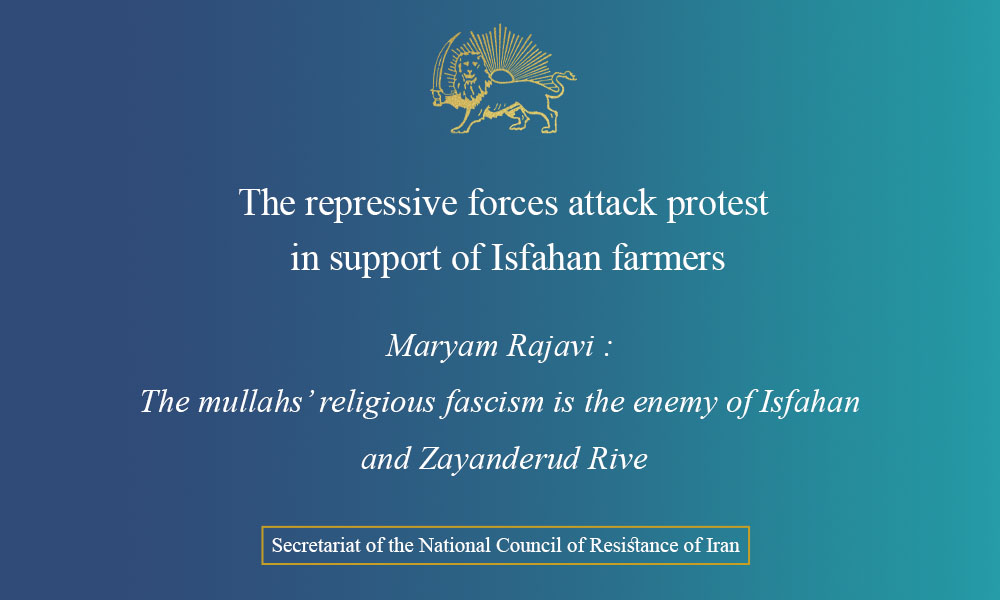 Maryam Rajavi : The mullahs' religious fascism is the enemy of Isfahan and Zayanderud River.
This morning, thousands of deprived farmers and youth of Isfahan gathered at the farmers' sit-in location on the Zayandeh Rud Riverbed, to which the repressive forces had set fire the day before. Since early morning, the State Security Force (SSF) and IRGC's special units were deployed to three locations around the Khajoo Bridge (historical bridge on Zayandeh Rud river) and on the roads leading to the river to prevent crowds from joining the protesters. By sending text messages to the people, warning them not to participate in today's rally, the security and intelligence forces had tried desperately to prevent people from joining the demonstration since the day before.
The repressive SSF, paramilitary Basij, and plainclothes agents tried to disperse the protesters using tear gas and dispatching motorcyclist units, who were running over the crowd and beating them. Several protesters were arrested. The protesters confronted the repressive forces while chanting, "Shame on you," "Death to the dictator," "Death to the enemy of Zayandeh Rud," "Iran has become Palestine, stand up compatriot," "Have no fear, we are all together," "Isfahan, Shahrekord let's unite," "Compatriots shout, demand your rights," and "We will not return home until the water flows into the river".
By throwing rocks and fighting back, the youth of Isfahan retaliated against the repressive forces' onslaught while chanting, "Death to Khamenei," and "Resolute people of Isfahan support us." Several protesters were injured but refused to be taken to the hospital, fearing arrest.
Mrs. Maryam Rajavi, the President-elect of the National Council of Resistance of Iran (NCRI), saluted the valiant people of Isfahan, who are resisting the onslaught by the Revolutionary Guards and tear gas, with the chants of "death to the dictator," and "Isfahani shout and demand your rights." The mullahs' despicable regime is the enemy of Isfahan and Zayandeh Rud river; it has occupied Iran. Our people are determined to free Iran, this most beautiful country, she said.
Secretariat of the National Council of Resistance of Iran (NCRI)
November 26, 2021