Maryam Rajavi: Hail to Steadfastness of Varzaneh Farmers in Isfahan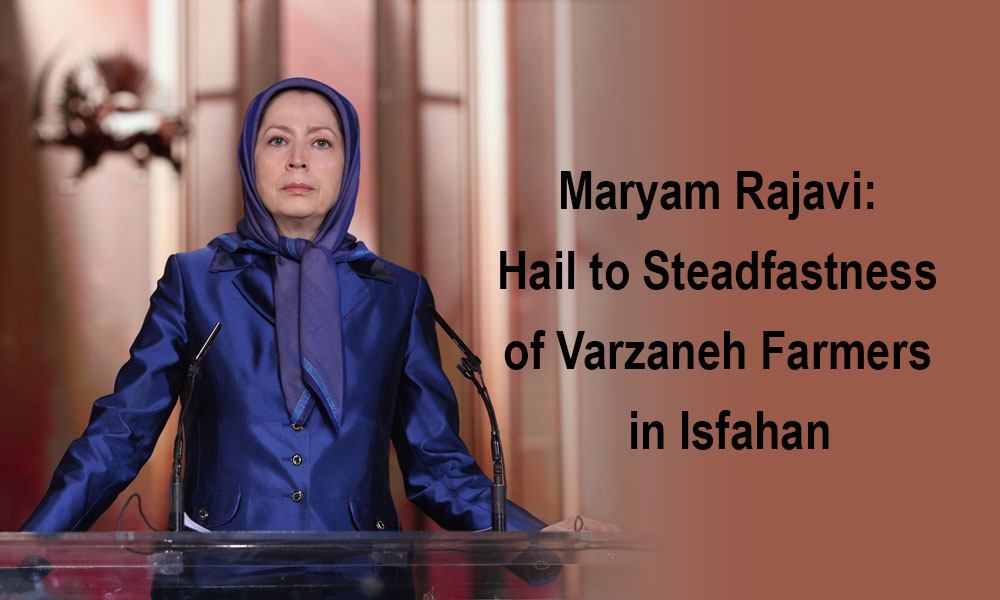 A large number of people of Isfahan, central Iran, staged a demonstration in the city center on Saturday morning, March 10, 2018, in protest to the regime's crackdown on the deprived farmers of east Isfahan, and in solidarity with them.
The people of Varzaneh, Ejiyeh, and Ziyar (east of Isfahan) staged extensive protests and demonstrations on Friday, March 9, which continued into the night.
The people of Isfahan gathered on Khajoo Bridge and along the Zayandeh Rood and protested against the clerical regime's anti-popular policies which have led to the drying of this major river in central Iran. The protesters chanted, "Today is the day when destitute farmers are mourning" and "if you do not give the (farmers') water share, we will give our lives for it."
Maryam Rajavi saluted the arisen people of Isfahan, particularly the deprived and toiling farmers in eastern Isfahan Province. She said the drying of Zayandeh Rood which has jeopardized the lives and incomes of hundreds of thousands of people in the region, is part of the environmental disaster engulfing the entire country and a consequence of the clerical regime's policies and conducts over the past four decades. All the country's assets and resources have either been plundered by the regime's leaders including Khamenei's headquarters and the Revolutionary Guard Corps (IRGC) or consumed on domestic suppression, warmongering, terrorism and unpatriotic nuclear projects.
Destruction of jungles, drying of lakes, ponds and lagoons, expansion of deserts, dust storms, diversion of rivers, and construction of dams which only profit the IRGC are parts of the irreparable environmental disaster imposed on our country –directly or indirectly– by the criminal mullahs. So long as the mullahs' corrupt regime is in power, the destruction and extinction of our country's natural resources continue as do poverty, unemployment and acute inflation.
Maryam Rajavi stressed that the uprising of the farmers of Isfahan, just as the protests by Steel workers and the workers of Haft Tappeh Sugar Cane Factory, and the strike of the people of Baneh, are part of the uprising against a regime which has brought about destitution of the Iranian people and toiling masses. Today, Isfahan farmers' water share and workers' past due wages totally depend on the overthrow of the clerical dictatorship and establishment of democracy and national sovereignty.
The secretariat of the National Council of Resistance of Iran
March 10, 2018