Iran: Protests against the clerical regime's crimes and plunder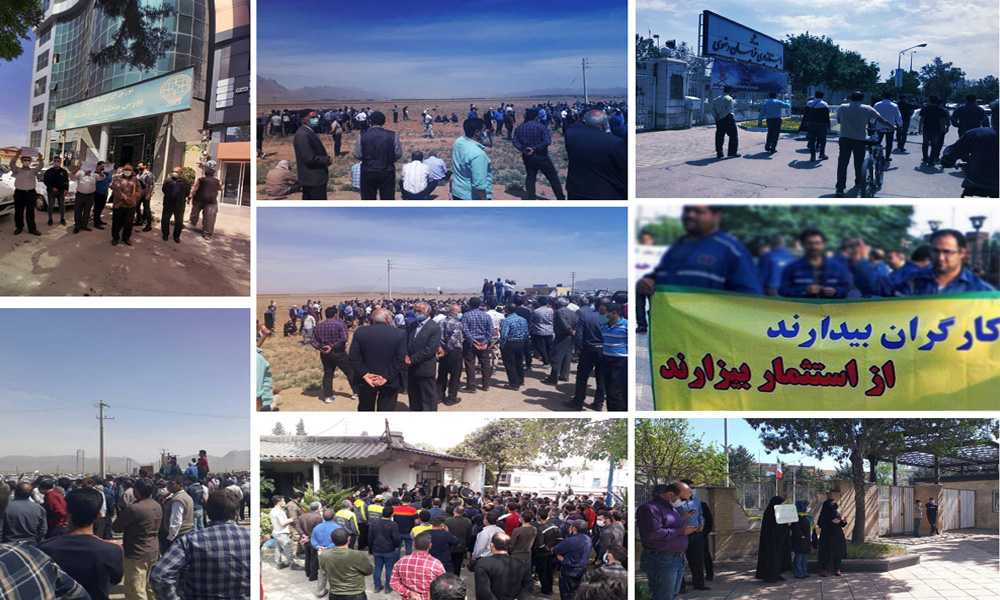 • Over 3,000 Isfahan farmers protest to get water rights and prevent the diversion of Zayandeh-Rud
• Defrauded investors in Azovico Company rally in Tehran; attacked by the State Security Force (SSF)
• Investors defrauded by stock market stage protest rallies in Tehran, Mashhad, Kermanshah, and Zanjan, chant: "Rouhani Shame on you, leave this nation alone," "We will no longer vote because we have heard too many lies."
This morning, April 24, 2021, more than 3,000 Isfahani farmers, along with 700 vehicles, gathered in Isfahan to claim their water rights and return the Zayandeh-Rud River water.
The rally took place despite warnings by the regime's repressive prosecutor's office. According to state media, Isfahan's Public and Revolutionary Prosecutor had announced in advance that "any rally without the permission of the Provincial Security Council demanding rights over Agricultural issues and about Zayandeh-Rud" is prohibited. The announcement stressed that "these demands have been subject to abuse by opponents, and infiltrators have sought to exploit the protests to achieve their political and subversive goals."
Earlier, Ahmad Rastineh, a regime parliament deputy for Shahrekord, while addressing the water rights problems in Isfahan and Chaharmahal and Bakhtiari provinces, told Fars news agency, on April 20, "Some are trying to undermine the good neighborliness between the two provinces, and the reports of protests being broadcast by some of the counter-revolutionary media networks, show that the hypocrites (the regime's pejorative term to describe the Mujahedin-e Khalq-MEK) have planned to drive a wage between the two neighboring provinces."
In another development, this morning, investors defrauded by the stock market held a rally in front of the stock exchange offices in Tehran, Mashhad, Kermanshah, and Zanjan to protest the plunder of their property and investments. The demonstrators chanted: "Rouhani, Shame on you, leave this nation alone," "We will no longer vote because we have heard too many lies." and "Our investments are gone as if they were burned in a furnace."
Elsewhere, hundreds of Azovico defrauded investors gathered in front of the regime's Ministry of Industry, Mine and Trade, and blocked the street. The demonstrators chanted, "Unless we get our rights, we will continue to protest." In blaming the regime's Industry Minister, they cried, "Come out and answer. They also chanted, "We will no longer vote because we have heard too many lies." Azovico had plundered their investments for several years under the pretext of selling them cars. To disperse the crowd, the SSF attacked the protesters, tearing up their placards and beating the protesters. However, the protesters resisted and prevented the SSF from making arrests while cursing them.
Mrs. Maryam Rajavi, the President-elect of the National Council of Resistance of Iran (NCRI), saluted the brave farmers of Isfahan, the defrauded investors of Azovico and the stock exchanges in Tehran, Mashhad, Zanjan, and Kermanshah, who, braved the Coronavirus pandemic and ignored the repressive measures, and once again protested to get their rights. The protests and rallies by different sectors of the society in recent weeks and months, with slogans such as "The government betrays, the leader supports," "We have heard so many lies, we will not vote anymore," and "We will not rest until we gain our rights" displays the Iranian people's determination to overthrow the clerical regime and establish freedom, democracy, and justice, Mrs. Rajavi said.
Secretariat of the National Council of Resistance of Iran (NCRI)
April 24, 2021