Poisoning of female students in Tehran and other cities continue spreading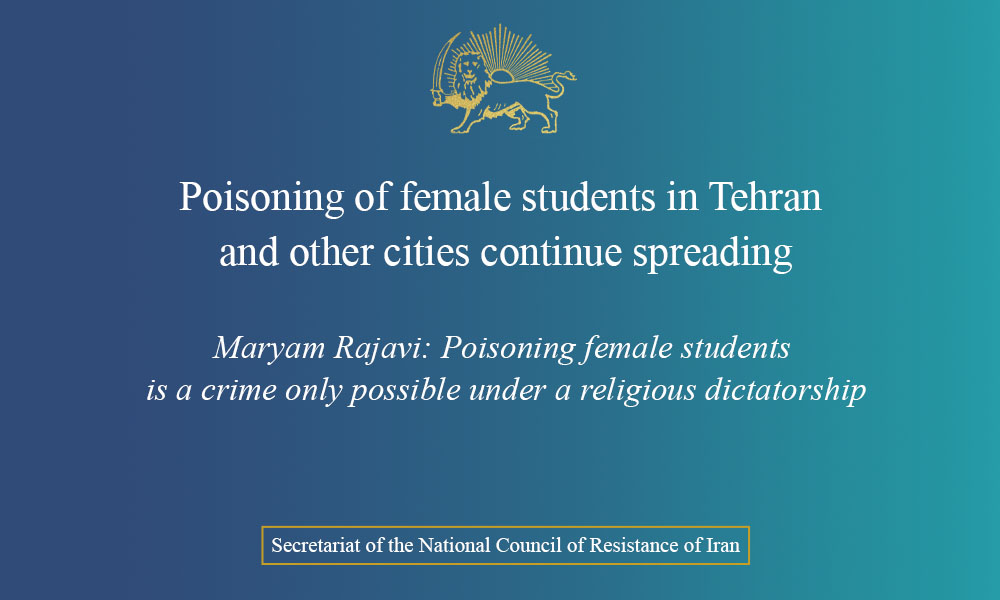 Protest gathering of families in Tehran, Isfahan, Kermanshah, Ardabil attacked by suppressive forces, dozens arrested
Maryam Rajavi: Poisoning female students is a crime only possible under a religious dictatorship
On Saturday, March 4, angry families of poisoned students protested in various areas of Tehran, including in front of the Ministry of Education and education departments in districts 1, 2, 5, and 8, as well as outside some schools, including Bahar-e Azadi school. Suppressive forces prevented the gathering of families in front of the Ministry of Education, but mothers gathered at a nearby intersection.
The families chanted in front of the Department of Education in regions 5 and 8 slogans such as: "Death to the child-killer State", " We don't want the child-killer State", "Basiji, IRGC, are the same as ISIS", "Our enemy is right here, they're lying, it's America", "Hey, the sitters, the next one to be poisoned will be you", "They killed our children, replaced them with mullahs". The suppressive State Security Force in Tehran attacked the gathering of families, assaulted and arrested dozens of them.
Families of students in Isfahan and Ardabil held protest rallies in front of the education department buildings and in Kermanshah at Masoume High School. Angry mothers in Isfahan chanted: "Spraying acid on women or poisoning students, both are crimes" and "Children's safety is not secured by attacking with sticks or batons".
On Saturday, many students from mainly girls' schools, including Esmat and Hojjat schools in Safadasht of Mallard (Tehran), Jamaluddin Asadabadi and Etemad Fard girls' schools in Tehran, two schools in Islamshahr, Towhid girls' high school in Shahriar, two girls' schools in Parand and Pakdasht of Tehran, Mehr Vila boys' primary school and Barjesteh high school in Karaj, Ahmad Fatehi girls' high school in Islamabad of Karaj, Mohajer girls' school in Karaj, girls' school in Banafsheh Township in Karaj, Rafati girls' primary school in Rasht, a girls' school in Kovar of Fars, Fahmideh school in Qom, Nour al-Zahra girls' school in Urmia, Vali-e Asr girls' high school in Zanjan, Janat school in Sanandaj, Abrishami Kashani primary girls' school in Mahalat, Masoumeh school in Tabriz, two girls' schools in Hamedan, Ketabchi girls' school in Kashan, several schools in Isfahan and Kermanshah, and one girls' school in Lahijan were poisoned by toxic gas.
Mrs. Maryam Rajavi called the widespread and systematic poisoning of schoolgirls across the country an unprecedented crime that only the inhuman clerical regime is capable of doing it. The crime that has been going on for the past three months started in Qom and has spread to Tehran, Tabriz, Karaj, Hamedan, Kermanshah, Mahalat, Sanandaj, Zanjan, Rasht, Urmia, Isfahan, etc. With greetings to the students and families who protested, she called on the students, women and young people to support the students and their families so that this heinous crime would turn against the regime itself.
Secretariat of the National Council of Resistance of Iran (NCRI)
March 4, 2023