Intentional and Criminal Poisoning of Female Students Resumes After Nowruz Holidays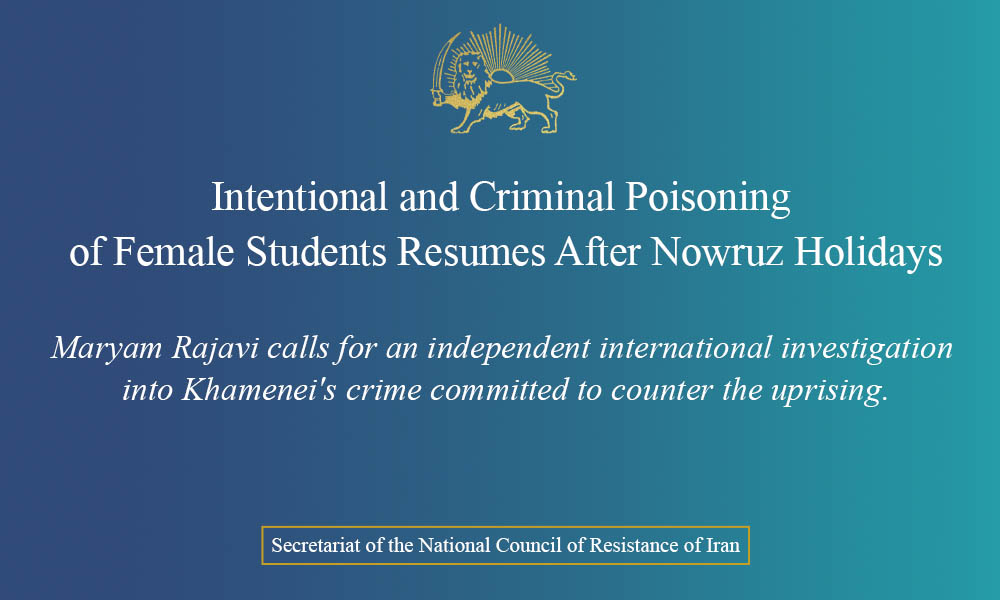 Mrs. Maryam Rajavi calls for an independent international investigation into Khamenei's crime committed to counter the uprising.
After the Nowruz holiday ended on April 3, the poisoning of students, especially girls, resumed. According to the State-run Rukna website, on April 4, 78 students were poisoned. "In one of Naqdeh schools, about 50 students suffered poisoning symptoms and were taken to the hospital and hospitalized," said the general director of the regime's education in West Azarbaijan, IRNA news agency reported on April 4.
On April 4, the IRNA news agency quoted the head of the emergency department in Tabriz as saying that "20 girls' school students in Baghmisheh town of Tabriz were taken to the hospital due to poisoning." On the same day, the Rukna website reported, "On April 4, Isfahan Medical Sciences reported that the number of poisoned students in the Daulatabad area of Isfahan is still unknown. The sick students have been taken to the hospital."
On Wednesday, April 5, the state-run website Tejarat News reported that seven students at Salamat Girls' School in Qom were poisoned. On the same day, students at Esteghlal Girls' School in Kohenjan, Sarvostan, Jila Moqbal School in Sanandaj, and Hazrat Mehdi Girls' High School in Piranshahr were also poisoned.
However, on April 5, Ahmad Vahidi, the interior minister of the regime, was quoted by the Mehr news agency as saying that this news was not confirmed and that a more detailed investigation should be done.
Yahya Ebrahimi, a member of the regime's parliament, admitted to covering up this great crime in the last days of last year. On March 17, 2023, Rouidad 24, a State-run website, quoted him as saying that they were not honest with the people and that they hid the matter. He also mentioned that 26 provinces and 245 schools are involved and that they drop these bombs only in girls' schools, so they do this on a specific spectrum with specific goals.
Mrs. Maryam Rajavi, President-elect of the National Council of Resistance of Iran (NCRI), stated that Khamenei had committed a great crime by systematically and widely poisoning innocent schoolgirls in different cities and regions of Iran after the Nowruz holidays. This act was done to counter the uprising by creating an atmosphere of terror, especially since Khamenei is furious and disappointed with the leading role of girls and women in the uprising of the last seven months.
Mrs. Rajavi has once again called on the international fact-finding committee and relevant United Nations organizations such as UNICEF and the special rapporteur on human rights, and the rapporteur on violence against women to conduct independent investigations into this matter and take immediate action to stop this great crime that has been going on for five months.
Secretariat of the National Council of Resistance of Iran (NCRI)
April 6, 2023