Remarks by Maryam Rajavi at the Memorial Ceremony for the Great Artist Andranik Assatourian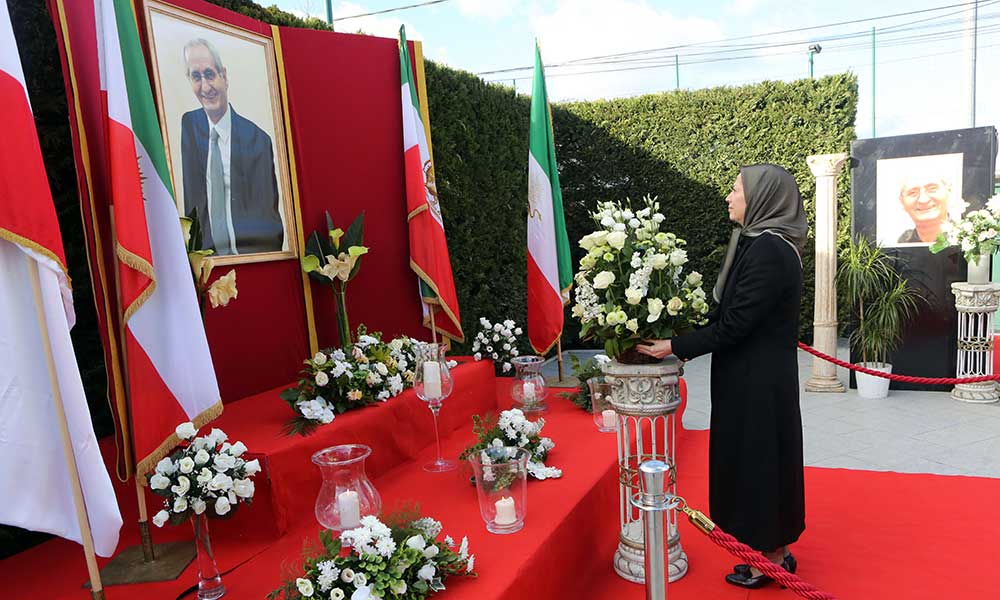 On Friday, February 27, 2015, Maryam Rajavi paid homage to Andranik Assatourian, Iran's great artist and a member of the National Council of Resistance of Iran, at a memorial ceremony at the NCRI headquarters in Auvers-sur-Oise, northwest of Paris.
Mr. Assatourian passed away earlier in the week after a long bout with cancer. He was 73.
The full text of Maryam Rajavi's remarks follows:
Dear Compatriots,
Dear Friends,
Please allow me to send my condolences on the passing of the late Andranik, a great artist of our nation, to his wife, our beloved Aida, to his daughters, and to Ando's sisters and brothers at Camp Liberty. They have all lost a friend, a supporter and a teacher.
I would also like to send my condolences to the Iranian arts community, the entire nation of Iran, members of the National Council of Resistance of Iran, and especially the President of the NCRI.
And, I especially send my condolences to the Armenian and Christian communities of Iran, and recite the words of Jesus Christ: "Blessed are the poor in spirit, blessed are the merciful, blessed are the pure in heart, and blessed are those who hunger and thirst for righteousness, for theirs is the kingdom of heaven."
Dear Compatriots,
Dear Friends,
We have gathered to commemorate the life of a great human being whose death and departure we mourn and it pains our hearts; yet at the same time, we are reminded of him at every single moment; we cannot help but remember his warmth, sincerity and conviction, all of which reinvigorate our hearts and our souls and fill us with a sense of pride and honor.
Such is true for all human beings whose words, hearts, and deeds speak as one.
And, the story of their lives, their words, their work, and their interactions with others effectively lift up and advance all of humanity.
This was the story of Andranik Assatourian; a human being who thought freely and held a heartfelt conviction.
With Andranik's passing, Iran's music lost a great teacher and an artistic treasure, and the NCRI was deprived of a wealth of love, steadfastness, and one of the personifications of honoring one's pledge.
Over the past few days, we have all seen how people associated with various tendencies and opinions talk about Andranik and consider him as someone who belongs to them. And, they are right. Andranik belonged to all Iranians.
He started playing music at the age of 9, got to know the notes, created some of the most beautiful melodies, and sympathized with his people both in times of joy as well as sorrow.
This is because he loved his people and accomplished every musical milestone for them and inspired by them.
You have probably heard that Iran's famed artists and musicians all agree that Andranik was the father of Iran's popular music.
They note that he revolutionized Iranian music. And, that many of the novelties and advances in Iran over the past several decades were inspired and made possible through his hard work and innovation. And, they say he has no equal.
They constantly say that Andranik has made a great contribution to Iranian music.
Yes, these are all accurate.
But, if we were to truly pay homage to Andranik, we would have to say that Iranian art and its community of artists are indebted to his great contribution of standing up to and waging a fight against the velayat-e faqih regime, an act that protected the honor of Iranian art and its artist community. Indeed, Andranik was the inspired conscience of Iran's art and artists.
You all know that Andranik joined the Iranian Resistance in 1994 as he took part in the solidarity concert performed at Palais des Congrès in Paris, and that he became a member of the NCRI in the years that followed. He said at that time, "A true artist honors a commitment and a sense of responsibility to his or her society, and their main goal should be to achieve freedom for their people."
Andranik's message resembles what French novelist Romain Rolland described when he said: To continue making art, one needs something other than natural talent and something that transcends it; and that something is the sum of pains and hurts that permeate life and imbue it with meaning. Otherwise, an artist would be incapable of producing art.
Over the past decade, the most violent attacks of the regime and its Iraqi mercenaries were targeted against the People's Mojahedin Organization of Iran (PMOI/MEK), and these years were the years that marked extensive plots against the Resistance by the velayat-e faqih regime. But, as the pressures mounted, Ando became more involved with the MEK and the NCRI, because this was his intention from day one, and as he said, he had come to fight and to do his part for the pursuit of the ideal of freedom.
This is especially noteworthy because as a first-rate Iranian composer, he had all sorts of opportunities available to him;
He had a wealth of expertise and artistic abilities, and he enjoyed extraordinary fame and social status; and he had reached some of the greatest milestones in his career, some of which still remain unequaled. But, he sought something else, something he himself described as "the greatest artistic act of an artist." He had said, "Joining the resistance and struggle against injustice is the greatest artistic act of an artist."
I encourage you to revisit his words and interviews in these years.
He deliberately repeated over and over again that "I am an Ashrafi." Why was he so adamant to emphasize this? Because he wanted to inscribe and imprint a truth and a message on people's hearts and minds.
He wanted to say that Iran's art has not surrendered to the art-destroying regime of the velayat-e faqih, and that it is engaged in a fight and a struggle, and that it belongs in the Iranian people's resistance movement.
He wanted to say that when someone reaches the zenith of their artistic career or any other profession, they can still set their sights to a higher summit, the summit of freedom, which they can reach if they spread their wings and fly towards it.
Ando was an authority in the Iranian music scene when it came to arranging songs and musical scores; but he arranged and created his biggest artistic achievement in the way he lived and made art and associated it with the Iranian Resistance and the army of liberation.
As Massoud Rajavi, [the Leader of the Iranian Resistance] said, "It was as such that the immortal hero of the arts, equipped with a fiery harp and musical instruments, filled with a love a hundred times measureless in the heart of Ashraf and the army of liberation, became an indivisible part of the Iranian nation and the Iranian Resistance."
Indeed, we must honor the memory of our beloved Marzieh, Emad Ram, Manouchehr Sakhai, Bahram Alivandi, and now Ando, each of whom used their name and fame, their extensive achievements, their fiery conviction and honesty to endow the responsible art of their time with a profound meaning.
Yes, every human being leaves behind a work of art through the tale of their lives. And, as Ando said, his greatest work of art and achievement shone through his act of resistance.
Now, history listens to the heartfelt melodies created by a composer and hears the word freedom, the word Ashraf, and the word Iran.
Today, Iranian society sees a beautiful and rich conscience, and any artist and any human being that is ready to be inspired can learn from him and walk in his footsteps. And, the ruling mullahs and henchmen who shattered musical instruments and beheaded the arts, those reactionaries who unleashed the worst forms of suppression against Andranik, other popular Iranian artists, and also our Christian compatriots, find themselves defeated against Ando.
He is an immortal figure in Iranian music, and will live on in the homes and hearts of our people.
He is still fighting and remaining steadfast alongside the freedom fighters at Camp Liberty and is active in all the international campaigns. He still is and will be present during NCRI sessions.
And, tomorrow, in the battle to free Iran, he will be in attendance among the Ashrafis, the army of liberation and Iran's arisen youth. May his soul rest in peace! He expressed his ideal in his beautiful wish to build a blue planet of love and freedom.
As the legendary Iranian poet, Hafiz wrote, "He whose heart has been reinvigorated with love will live on forever in the writings of the universe."
We salute his pure soul.