Pensioners protests in 21 provinces and 28 cities enters 7th week, protesters beaten, arrested in Tehran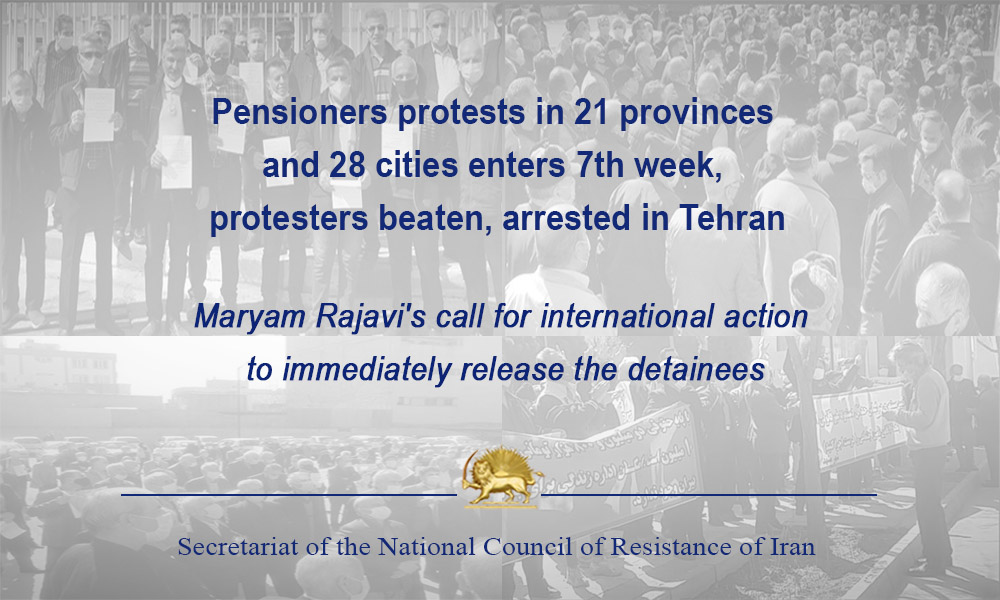 Mrs. Rajavi's call for international action to immediately release the detainees
On Sunday, March 7, 2021, retirees and pensioners rallied in Tehran and 27 other cities for the seventh consecutive week to protest their living conditions, skyrocketing prices, and lack of response to their demands.
In addition to Tehran, retirees in Tabriz, Isfahan, Yazd, Qazvin, Karaj, Khorramabad, Ahvaz, Rasht, Urmia, Shiraz, Kermanshah, Ardabil, Ilam, Sari, Arak, Mashhad, Sanandaj, Kerman, Bojnurd, Abadan, Shahroud, Shush, Behshahr, Neyshabur, Shooshtar, Dezful, and Hafttapeh held protest gatherings and rallies in front of the Social Security Organization or governor offices.
In Tehran, from early morning the repressive State Security Force (SSF) was deployed in the streets leading to the Social Security Organization to prevent the retiree's gathering. At the same time, it closed the nearby metro station and prevented people from joining the protesters. The repressive forces also seized some of the demonstrators' leaflets and banners and confiscated several mobile phones, which was met with resistance by the retirees. The SSF attacked and beat up and arrested some of the protesters.
In Shahroud (northern Iran), the SSF also attacked protesters, seized the retirees' banners and placards, and dispersed them.
The slogans of retirees in today's rallies and marches included: "Our enemy is right here, they lie that it's America," "Enough empty promises, our tables are empty," "Our tables are empty, while you (regime officials) live well-off, enough oppression," "The nation has never seen so much injustice," "inflation rate is based on the dollar, our salaries are in rials," "Poverty line is 12 million rials, our salary is 3 million rials," "How can we survive with a salary below 3 million rials?"
Mrs. Maryam Rajavi, the President-elect of the National Council of Resistance of Iran (NCRI), saluted the oppressed retirees and said their continued protests echo the Iranian people's stolen rights. She called on the youth across the country to support the protesters and urged the United Nations and the human rights organizations to take urgent action to secure the immediate release of the detainees.
Secretariat of the National Council of Resistance of Iran (NCRI)
March 7, 2021