Iran: Devastating floods ravage 28 Provinces, at least 11 die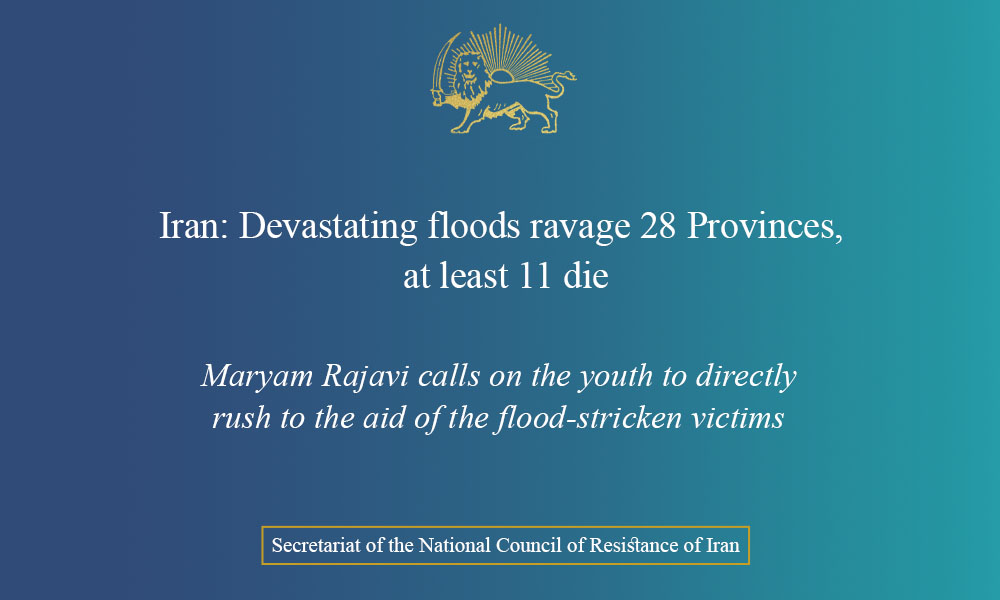 Maryam Rajavi calls on the youth to directly rush to the aid of the flood-stricken victims
Once again, as a result of the plundering and criminal policies of the clerical regime, the flash flood has left many farmers, workers, and other Iranians homeless and bereaved a large group of our compatriots.
Following the recent rains, flash floods have stricken most areas of the country, including West Azerbaijan, Ardabil, Isfahan, Bushehr, Qazvin, Fars, Kerman, Kohgiluyeh and Boyer-Ahmad, Chaharmahal and Bakhtiari, Zanjan, Sistan and Baluchestan, Khuzestan, South Khorasan, Lorestan, Mazandaran, Hormozgan And Yazd provinces.
Floods have run over and extensively destroyed large parts of these provinces, especially villages demolishing homes, farms, agricultural products, and livestock. Many compatriots, including women and young children, especially in Fars, Sistan and Baluchestan, and Kerman, have died and more are missing or injured. In some areas, such as Konarak, large groups of people are surrounded by water. Due to the lack of government support in most flooded areas, the fate of many people is unknown, which will undoubtedly increase the number of victims.
Storms and floods have damaged several bridges in Kerman and Hormozgan, and electricity has been cut off in many cities and regions. Rains and landslides have blocked the Yasuj- Isfahan highway. The situation in Chabahar is critical, and all educational centers, offices, and executive bodies have been closed due to rain and floods.
Mrs. Maryam Rajavi, the President-elect of the National Council of Resistance of Iran (NCRI), extended her sincere sympathies to the flood victims across the country and offered her condolences to the families of the victims especially in Fars, Kerman and Sistan and Baluchestan. Wishing the injured a speedy recovery, Mrs. Rajavi called on the public, especially the youth to rush to the aid of the victims and the homeless and provide assistance to them.
Shame on the criminal mullahs who have plundered the country's resources or squandered them on unpatriotic nuclear and missile programs and war-mongering projects, doubling the suffering of our people in the face of natural disasters, the NCRI President-elect added.
Secretariat of the National Council of Resistance of Iran (NCRI)
January 4, 2022