Hepco workers' protests continue despite suppressive measures for the third consecutive day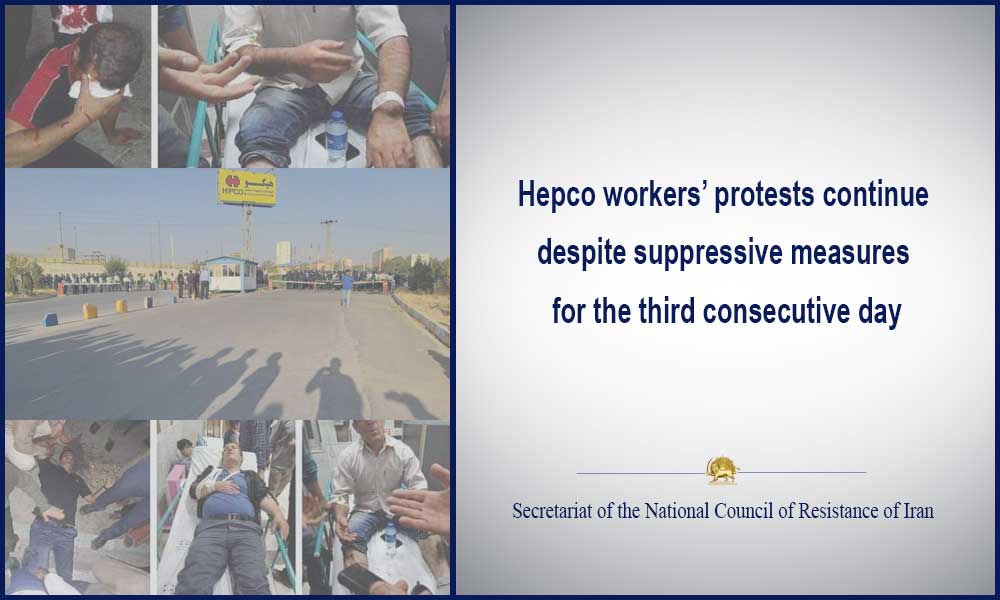 This was the third consecutive day of their protests. The mullahs' regime's suppressive forces and riot units blocked all roads to the workers gathering stopping others from joining the protesters.
Hepco workers had given the management 10 days to fulfill their demands. The deadline expired on Sunday September 15 and the workers began a new round of protests since their demands were not met.
Early morning on Monday September 16, Hepco workers marched through the streets in central city of Arak and blocked the railways. In the afternoon of the same day, suppressive security forces including IRGC's Special Riot Units attacked the protesters wounding some and arresting dozens of others.
Hepco workers have gone on strike and protested many times in the past two years including in May 2018. In November 6, 2018, 15 workers were each sentenced to a year of prison and 74 lashes.
Mrs. Maryam Rajavi, President-Elect of the National Council of Resistance of Iran (NCRI) hailed the brave Hepco workers that despite the brutal suppression by the mullahs' regime continue with their protests and strikes. She called on all Iranian people specially the youths in Arak to rise up in support of the protesting workers. Mrs. Rajavi also called on all workers' unions, human rights and workers' rights defenders to condemn the mullahs' suppressive measures and support the demands of all Iranian workers particularly that of Hepco's. She calls for an immediate release of all detained workers.
Secretariat of the National Council of Resistance of Iran
September 17, 2019