Workers' protests in step with the uprising display Iranian society's immense potential for a revolution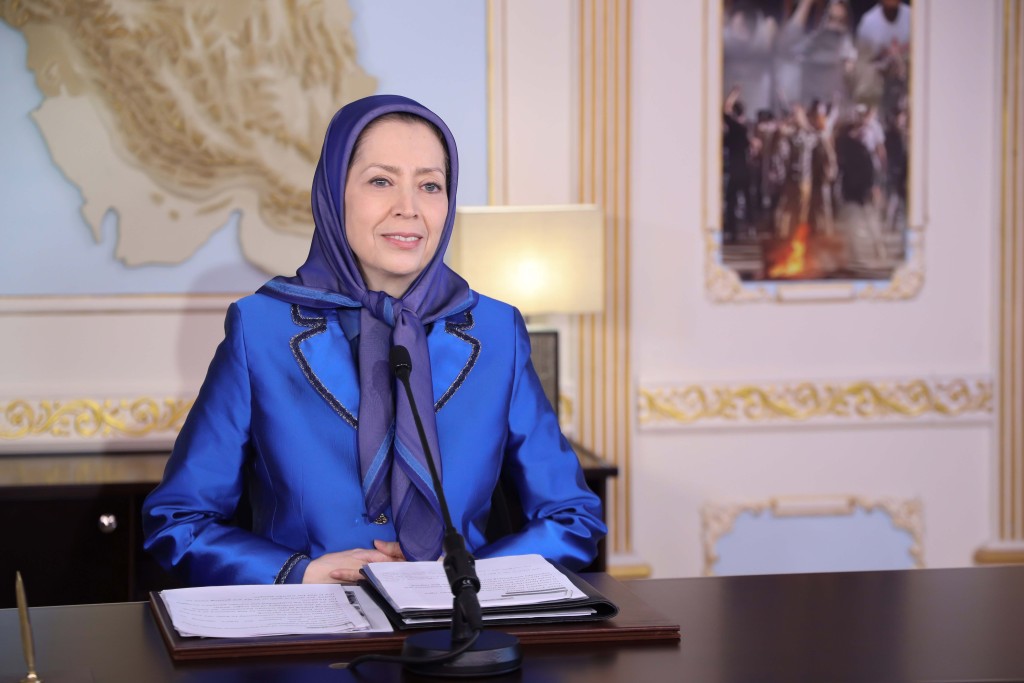 Message on International Workers' Day
Dear workers and farmers,
Exasperated workers, who refuse to accept oppression, inequality, and repression, and have risen up to protest and revolt!
Happy International Workers' Day to all of you. To the millions of honorable men and women whose whole being has been shackled by the mullahs with temporary contracts, unpaid wages, miserable salaries, unstable jobs, poverty, insecurity, discrimination, and repressive controls.
Today in Iran, under the most brutal system of exploitation in the world – the religious dictatorship – the workers' anger and their ongoing protests in solidarity with the Iranian people's uprising against the regime demonstrate the immense potential of Iranian society for revolution.
From the protests of petrochemical workers in Asaluyeh and Kangan who rose up with the slogan of "down with Khamenei" during the height of last October's uprising, to the strikes of workers in 110 factories and industrial enterprises across 38 cities and 13 provinces.
In recent days, oil, gas, and petrochemical workers in Gachsaran, Asaluyeh, Dehloran, Shiraz, Bushehr, Kerman, Bandar Mahshahr, and other cities have gone on strike as Labor Day approaches. Similarly, teachers, pensioners, municipal workers, and workers in the transportation industry, healthcare sector, and public and government services have held numerous demonstrations, sit-ins, and strikes.
Last month, the National Council of Resistance of Iran revealed a "highly confidential" document from the mullahs' Ministry of Defense. The document showed that the regime had paid one million tomans per person to 400 security force officers to crack down on Asaluyeh workers during last October's protests(1). This is in addition to the tens of thousands of security agents in the factories who keep workers under constant intelligence and security surveillance.
Nevertheless, the anger and determination of Iranian workers for revolution and freedom are more powerful than the regime's oppressive force. During the recent months of protests, at least 30,000 young people were arrested, many of whom were workers without stable jobs.
Among those who paid the ultimate price for their participation in the uprising were four brave youths – Mohsen Shekari, Majidreza Rahnavard, Mohammad Mehdi Karami, and Mohammad Hosseini – who were executed for defending themselves against Khamenei's criminal agents. These workers added to the pride and honor of the Iranian working class through their resistance.
Khamenei, the enemy of Iranian workers
The Iranian working class faces a predatory enemy in Khamenei and his central headquarters, which rely on the Revolutionary Guards. Having seized control of much of the country's property and income, Khamenei has become the primary employer and force of oppression and plunder. Hundreds of foundations, parent companies, and so-called workers' organizations in various sectors – including energy, finance, production, trade, judiciary, and repressive forces – are all linked to Khamenei and follow his instructions.
As Massoud [Rajavi], the leader of the Iranian Resistance, has said, "The workers of our country are subject to the most brutal forms of oppression, and under inhumane conditions reminiscent of the Middle Ages without exaggeration."
Each year, the Iranian regime introduces new plans or laws to intensify the oppression and impoverishment of workers. For instance, they have eliminated subsidies, reduced tariffs for unbridled imports, privatized factories and enterprises, sold state property and assets (as a productivity measure), initiated all-out layoff plans (as an adjustment of personnel), implemented scandalous plans like "Act 179 of the Administrative Court" which has led to the spread of temporary contracts and lack of job security, and relegated the employments to extortionist entities called contract companies.
Other examples include the abolition of the preferential currency (or freeing up the price of food and livestock inputs), the implementation of which in the spring of last year caused food price inflation to jump to 100%, numerous plans and decisions under the heading of "removal of obstacles to production(2)" to make it easier to dismiss workers, the implementation of the "agreed wage" plan to force workers to accept the minimum wage, and the increase in the price of medical services tariff by 40% in the last year.
These plans – key features of Khamenei's economic policy in Iran – can be summed up in a few basic elements: forcing workers into temporary employment contracts, driving down wages, preventing workers from organizing independently, reinforcing gender discrimination, and creating a huge wealth cluster around Khamenei's headquarters. This tyrant has understood perfectly well that the gigantic wealth he derives from underpaying and repressing Iran's labor force cannot be compared to any other form of plundering his regime does.
The deplorable conditions of workers in Iran
Additionally, 90% of workers in Iran have fallen below the poverty line(3), and 60% are not covered by insurance(4). The Mullahs have also privatized healthcare, creating a tragedy in which many workers avoid seeking medical treatment and endure pain and illness.
Despite a general inflation rate of 50% and an 84% inflation rate of food products(5), the minimum wage set for this year is 12.5 million tomans below the poverty line(6). As a result, children, and teenagers from working families are increasingly being pushed into the labor market and exploited as the cheapest labor, without any rights.
There are no queues for the billion-dollar embezzlement of Khamenei's henchmen. All doors are open to them for all kinds of theft, but "for a loan of 12 million tomans [or just $220], pensioners have to stand in line and wait their turn for years(7)." The devaluation of labor and the deregulation of labor relations have mainly penalized women, forcing them into jobs outside the scope of labor laws and regulations. As a result, the rate of women's economic participation fell to 13.7 percent last year(8), and the unemployment rate for women is double that of men.
Many women are excluded from formal employment in offices and factories due to the pressure of extremist laws and deceptive schemes such as "part-time work" and "reduced working hours." As a result, the number of women heading households has reached 4 million(9), and most of them live below the poverty line. This situation is entirely due to the regime's policies. To maintain its shaky power, the regime has allocated a large part of this year's public budget to military and war spending, while squandering a significant portion of oil revenues on the repression machine, nuclear program, and export of terrorism and religious extremism.
The Iranian Resistance's Plans to Restore Workers' Rights
Fellow workers,
The People's Mojahedin Organization of Iran (PMOI/MEK) and the Iranian Resistance have defended the rights and freedoms of workers from the very beginning of Khomeini's evil rule and have declared it as the most important element of their demands and plans.
In a statement titled "What is expected at this stage of the Islamic Republic" on March 18, 1979, the PMOI emphasized the importance of workers' rights, including the abolition of anti-labor regulations, factory management by councils, formalization of contract workers, and an increase in the workers' share of factory profits. Similarly, Massoud [Rajavi] included workers' rights as a key element in his 12-point program when he ran for presidency a few months later(10).
The program of the National Council of Resistance of Iran (NCRI), published in October 1981, placed strong emphasis on guaranteeing the rights of workers and farmers in order to end their oppression.
In recent years, the Iranian Resistance has consistently emphasized the following demands(11):
– The urgent release of imprisoned workers.
– The unconditional reinstatement of dismissed workers.
– The right to form independent trade unions and syndicates.
– The right to go on strike and hold social protests.
– Job security.
– An increase in salaries proportional to the cost of living, which is currently eighteen million tomans per month.
– Timely payment of salaries and disbursement of past-due allowances.
– Abolishing the system of temporary contracts and eliminating the practice of signing blank contracts.
-The liquidation of labor supply contract companies.
– The establishment of unemployment, health, and life insurance.
– Ensuring the safety of workers in hazardous jobs.
– The prohibition of child labor.
– Elimination of gender discrimination against working women, including equal rights and benefits for female workers.
– Cancellation of debts of bankrupt factories and businesses so that workers do not have to pay off the debts of the predatory owners with their suffering and labor.
– Access to free healthcare.
It is clear that the restoration of Iranian workers' trampled rights can only be achieved through their united and persistent struggle, in conjunction with the resistance and uprising of the Iranian people, to achieve freedom, equality, democracy, and the overthrow of the religious dictatorship.
The key to making progress against the ruthless assault of the religious dictatorship and the Revolutionary Guards on the lives and rights of workers is to connect their protests with the larger struggle to overthrow this regime. Workers should join forces with their colleagues who have formed resistance units and do everything in their power to spark uprisings.
The exasperated and rebellious workers of Iran, united hand in hand with the great army of freedom, shall bring down the religious tyranny, and usher in a new era, where oppression and plunder shall be replaced by the triumphant ideals of freedom and equality.
Discover the Maryam Rajavi's 10 points plan

2-The Removal of Obstacles to Production Act was adopted by the mullahs' parliament and the Guardian Council in 2015.
3-Hadi Haqshenas, former member of parliament, Taadol newspaper, April 17, 2023
4-Mohammad Fazeli, sociologist, Ecometr.ir, October 8, 2022
5-Khabaronline.ir, January 9, 2023
6-Khabaronline.ir, January 9, 2023
7-Mohsen Khorassani, member of the Pensioners' League of Sari, ILNA news agency, January 4, 2023
8-Khabaronline.ir, November 7, 2022
9-Mehdi Eassazadeh, chair of the parliamentary Social Commission, Fars news agency, September 16, 202
10-Mojahed publication, No. 18, January 8, 1980
11-International Workers Day messages in 2014, 2016, 2017, 2021 among others.
1-Statement of the NCRI Security Committee, March 25, 2023