Iran: Fifth day of the popular uprising; Third day of protests in universities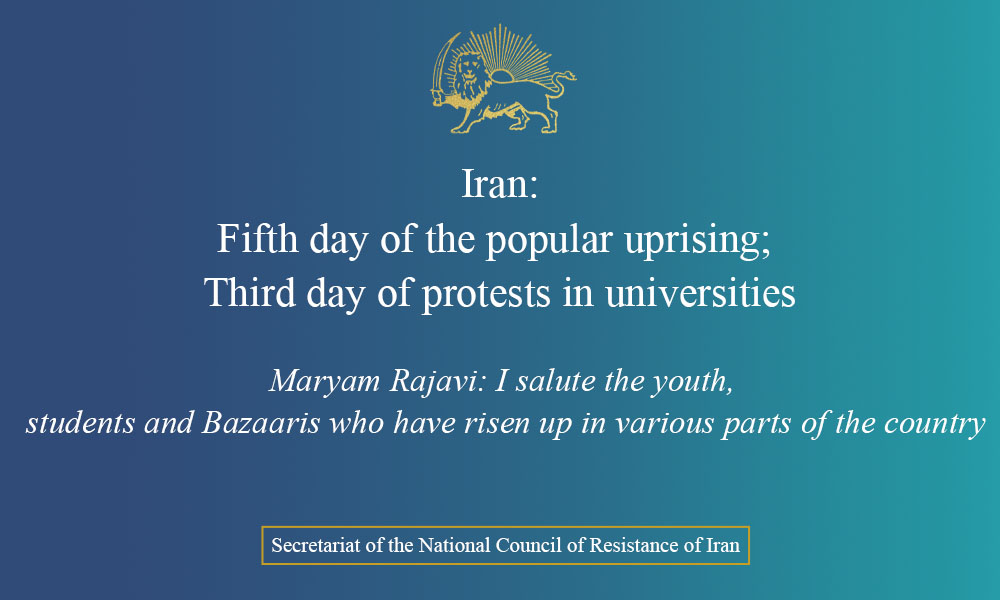 Maryam Rajavi: I salute the youth, students and Bazaaris who have risen up in various parts of the country
Students in various universities, including University of Science and Technology, Melli University (known as Beheshti), Allameh Social Sciences, University of Welfare and Rehabilitation Sciences in Tehran, Yazd University, Kharazmi University of Karaj, and Tabriz Medical Sciences, demonstrated for the third day on Tuesday morning, September 20 with chants of anti-regime slogans.
Today, Kharazmi University of Karaj joined other universities' protests with chants of "Down with this regime with its crimes all these years", "Violation and crime; death to this regime", and "Death to this tyranny". Melli University students chanted, "Khamenei is a murderer, his rule is illegitimate", "Basijis, you are our ISIS", and "We won't have a country so long as mullahs are not buried".
Medical Science University students in Tabriz demonstrated, chanting, "Death to this tyranny", "Discrimination, corruption, and oppression; shame on this tyranny", "I will kill whoever killed my sister", and "From Kurdistan to Tabriz, we have no more patience".
Students at the Science and Technology University chanted, "Death to the murderous patrol". Paramilitary Basij agents attacked them, but faced their resistance with chants of, "Shame on you! Shame on you!" The students of Welfare and Rehabilitation sciences of Tehran chanted, "Mullahs must get lost". The students of Yazd shouted, "Students die, but they don't accept humiliation".
This morning, enraged merchants of Tehran's bazaar started their protest with chants of "Brave merchants! Support, support". Despite the fact that intelligence, SSF, IRGC and plainclothes agents have been stationed in Kurdistan cities, the Bazaaris and shopkeepers are still on strike in a number of cities such as Paveh, Bukan and Baneh.
Mrs. Maryam Rajavi, the President-elect of the National Council of Resistance of Iran (NCRI), saluted the youth, students and Bazaaris who have risen up in various parts of the country. She reiterated that the memories of the martyrs of Iranian Kurdistan uprising, who sacrificed their lives for freedom, are eternal. She called on brave youths to commemorate the martyrs and help their families. She also called on noble and freedom-loving doctors and nurses to treat the wounded away from the eyes of repressive forces and to not allow IRGC, SSF and intelligence agents to get access on them. She added that the current session of the United Nations General Assembly should hold Ebrahim Raisi, the 1988 executioner, accountable for four decades of massacres and killings.
Secretariat of the National Council of Resistance of Iran (NCRI)
September 20, 2022