Iran – Anti-regime rallies in 20 cities on International Workers Day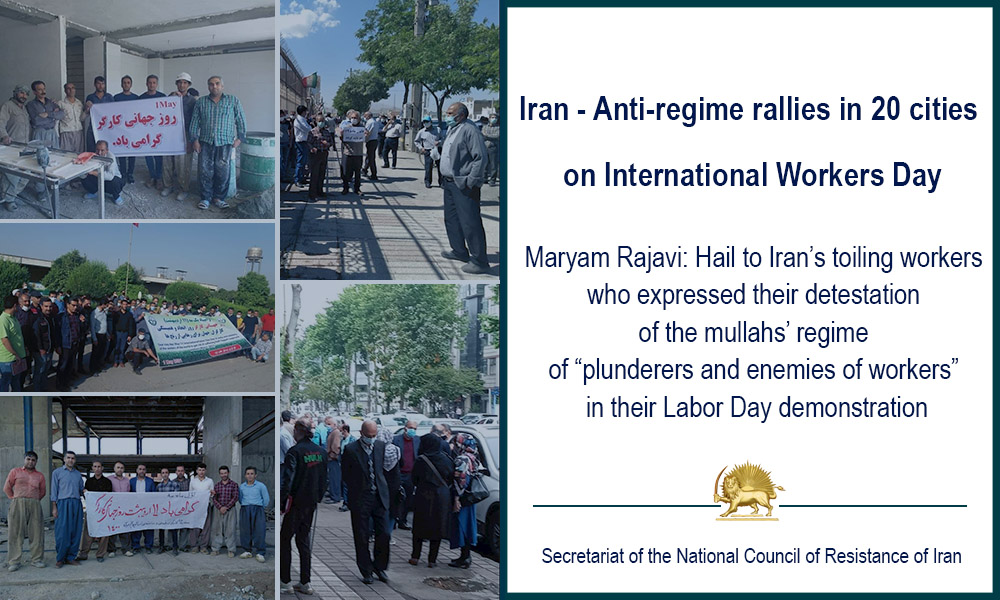 Maryam Rajavi: Hail to Iran's toiling workers who expressed their detestation of the mullahs' regime of "plunderers and enemies of workers" in their Labor Day demonstration
Despite repressive and deterrent measures, on the occasion of the International Workers' Day, workers and laborers gathered in Tehran and 19 other cities to protest against the clerical regime's plundering and anti-labor policies.
Protest rallies took place in Tehran, Karaj, Mashhad, Tabriz, Kermanshah, Borujerd, Arak, Bojnurd, Khorramabad, Ilam, Ahvaz, Rasht, Sari, Isfahan, Qazvin, Maragheh, Shush, Shahinshahr, Neyshabur, and Qom, from 15 provinces. In Tehran, protesters gathered in front of the regime's Ministry of Labor and Social Affairs, and in other cities there were gatherings in front of the social security offices.
The clerical regime tried to prevent the protest rallies by sending the State Security Force, the Intelligence Ministry force, and plainclothes agents to disperse protesters. In Tehran, buses and caged cars were deployed to arrest and transport detainees. However, workers and laborers continued their protest, ignoring the regime's preparations, and in some places resisted the repressive forces. Dozens of workers were arrested in Tehran and Karaj during the clashes.
The protesters chanted slogans such as "Down with the oppressor, hail to the workers," "Political prisoners must be freed," "Students, teachers, and workers, unite," "Enough is enough, both the parliament and the government are deceiving the nation," "Shame on this insolent government," "We will not vote anymore, we have heard enough lies," "Workers will die, but will never accept humiliation," "Enough of injustice," "Farmers, workers, shout for your rights,", "Oppressed workers are deprived of their rights," "The workers are vigilant, they hate dictators," "Imprisoned workers must be freed," "The enemy of the workers is the plundering government," "Our enemy is right here (the state), they lie that it's America." "Only by taking to the street we can obtain our rights," "We have heard so many lies, we will not vote anymore," "Our problem is shared, people join us," "We will not rest until we obtain our rights," and "Poverty line is 10 million rials, our salaries are 2 million rials."
To counter the workers' gathering, the state-run "House of Workers" (the state-controlled national trade union center) in Tehran brought a number of mercenaries to the scene by bus at 9 am local time, but by 10 am they all left in failure.
Mrs. Maryam Rajavi, the President-elect of the National Council of Resistance of Iran (NCRI), saluted the deprived protesters, saying that despite the repressive measures on Workers' Day, they succeeded in showing their "outrage" against the clerical dictatorship and called for the boycott of the sham presidential election. A dictatorship that "plunders and is the enemy of the workers." She added that as long as this regime is in power, poverty, inflation, unemployment, oppression, and discrimination against workers will increase. Overthrowing the clerical regime and establishing freedom and democracy are necessary steps to fulfill the rights of workers and laborers. She urged the United Nations and the other human rights and workers' rights organizations to take immediate action to secure the release of the arrested workers in Iran.
Secretariat of the National Council of Resistance of Iran
May 1, 2021