Iran: Strike by contract workers in oil and petrochemical industries spreads to more cities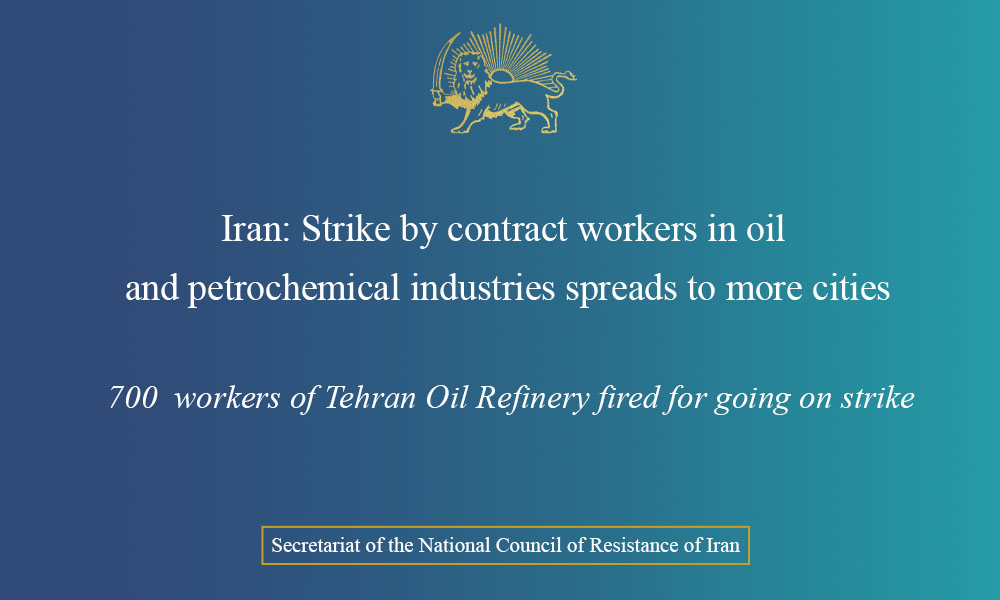 700 workers of Tehran Oil Refinery fired for going on strike
Maryam Rajavi called on all workers and youth to support the strikers. She said: Repression and expulsions will intensify workers' anger and strengthen public's resolve to overthrow regime and establish freedom and justice.
More oil workers in different cities have joined the nationwide strike in the oil and petrochemical industries in protest to low wages and difficult working and living conditions. The strike began on June 19, and on Wednesday, June 23, workers of Tehran South Company in Mahshahr port, Kayhan Pars Company in Isfahan Refinery, Adish Petroleum Refinery, Jask oil reservoirs, and Damavand Petrochemical joined the strikes.
In previous days, contract workers of oil and petrochemical industries, power plants, and oil rigs in Tehran oil refineries, Tondgouyan, Bidkhoon, AGC Abadan, Bid-Boland Behbahan, South Pars gas field companies (Asaluyeh), Omran Sana't petrochemical companies, Sadaf, Jahan Pars, Payandan, Satrap Sana't, Qeshm Refinery, Lidoma, Overhaul Dena Petrochemical, Jahan Pars, Phase 13 (Akhtar Phase) South Pars, Phase 13 Kangan, Hajipour, Qeshm Oil Reservoirs, Bushehr Petrochemical, Gachsaran Petrochemical, Exir Sana't, Rhyton, and Marine Operations in the Iranian Oil Terminals Company in Khark have joined the strike.
Agents of the clerical regime expelled 700 striking refinery workers at the Tehran refinery on Tuesday, June 22, despite their legitimate demands. "We came and protested for our rights. They gave us these papers for liquidation," said one striking worker. "Everyone is being fired."
Mrs. Maryam Rajavi, the President-elect of the National Council of Resistance of Iran (NCRI), once again called on all workers and youth to support the strikers and said: Repression and expulsion will intensify the workers and laborers anger against the anti-labor and inhuman regime, and adds to the public's resolve to overthrow the regime and establish freedom and justice.
Secretariat of the National Council of Resistance of Iran (NCRI)
June 23, 2021