Iran: Nationwide strike by contract workers at oil refineries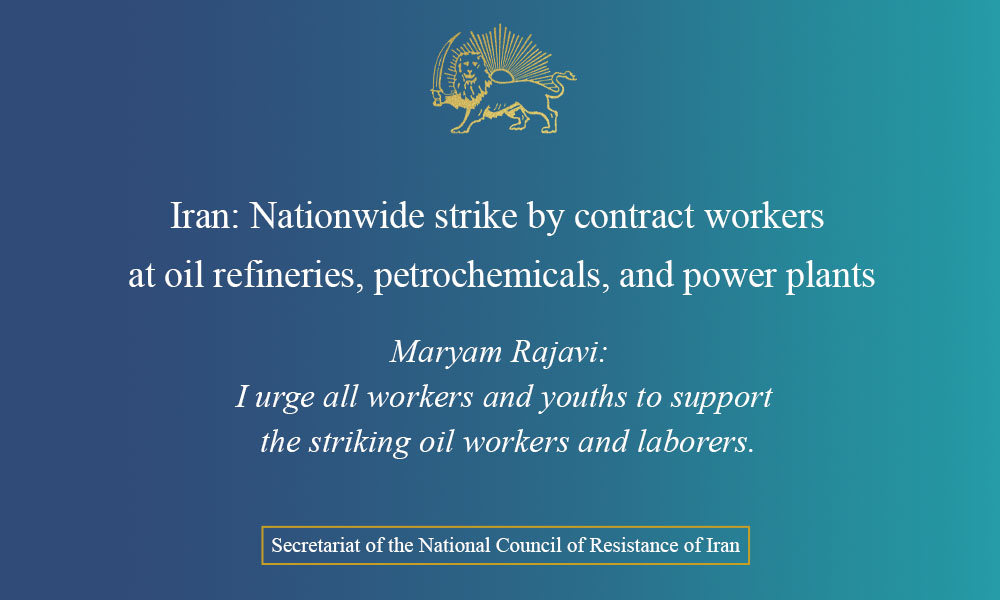 Workers in the oil and petrochemical industries have gone on strike since June 19, 2021, and more workers and employees have joined them after their demands for a wage increase and reduction of working days to 20 days a month was left unanswered.
On Saturday, June 19, the contract workers of Centralized South Pars Combined Cycle Power Plant (Farab Bidkhoon Power Plant) went on strike, demanding a wage increase and reduction of working days to 20 days working and 10 days of leave per month, which is called the Twenty-Ten Plan, and left the plant collectively announcing they would not return until their demands are met. The contract workers of Bushehr Petrochemical Spherical Tanks welders joined the striking workers. They gave back their tools to the warehouse and cleared their accounts. Official oil operatives at the Khark region oil terminal company also went on strike, refusing to receive or dock ships intended to load crude oil. Workers at the SPD17B gas platform went on strike as well to support workers at the Khark oil terminal.
In a statement, the striking contract workers announced, "We, the oil workers in refineries, petrochemicals, and power plants, are protesting against low wages, declining purchasing power, and not delivering on promises made to us. Therefore, as we had previously warned, we will restart our national strikes and pursue our demands by gathering in front of our working places." The statement adds, "Our strike is a warning and will last for a week, and we will join the ranks of our colleagues (the permanent workers) who have announced their protest on June 30, 2021."
From Sunday, June 20, contract workers of Rhyton Company, Qeshm Island Sina Refining Company, Khark Region Offshore Oil Company, Khark Region Oil Terminals Company, Phase 14 of Asaluyeh, Lidoma in Phase 13 of Asaluyeh, phase 13 of Asaluyeh, AJC Company in Phase 2 of the Abadan refinery also joined the strike. Today, contract workers at the Tehran Oil Refinery, Gachsaran Petrochemical Company, workers in the power plant industry under Jahan-Pars Company, and contract workers at the Behbahan Bid-Boland Refinery also joined the strike.
Mrs. Maryam Rajavi, the President-elect of the National Council of Resistance of Iran (NCRI), saluted the oil industry striking workers, and called on all workers and youth to support them, and said, as long as the inhuman and anti-labor regime of the mullahs is in place, poverty, inflation, and unemployment will increase. The continuation of protests, uprisings, and strikes of different strata shows the Iranian people's resolve to overthrow the clerical regime and establish freedom and justice in our captive homeland.
Secretariat of the National Council of Resistance of Iran (NCRI)
June 22, 2021